Ahhhh what would Christmas be without the overindulging ? If its not the Turkey with Gammon, its the booze filled trifle, or the Turkey and stuffing sandwiches on Christmas Night and we can't forget the tin of Quality Street, I mean i would be rude not to have another Chocolate Noisette Pate (The Green Triangle) and don't get me started on the Baileys or the cheeky glass or two of Red while peeling the veg and singing along to Wizzard's "I wish it could be Christmas everyday". Ohhhhh Food its part and parcel of the Yuletide and to help you along the way, here's a selection of some great and impressive gift ideas –
Bubbles …this is the way to impress, and what better way then Laurent Perrier Rosé NV fine Champagne.
Crumbly, melt in the mouth, Rosemary biscuits are perfectly partnered with fig & balsamic vinegar chutney and an Olive wood board making this gift perfect from Marks & Spencer for any cheese lover or Cheesy Lovers…
If stuck for Gifts Ideas – Fortnum and Mason is always great for inspired and delicious and very festive gifts…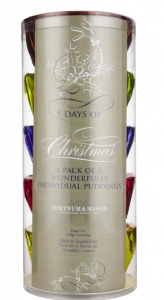 Old school – five miniature sponge puddings using Fortnum's preserves. Including Triple Ginger, Raspberry & Blueberry Preserve, Lemon Curd, Spotted Dick with Pusser's Rum and Sticky Toffee Pudding with Medjool Dates & Caramel Sauce, this is a brilliant gift for any lover of traditional sponge puddings.
Not only does it play a cheery rendition of 'Deck the Halls' when you wind the key in the base, but also the cherubs' candles on the label flicker on and off to add to the Christmas magic. Inside you will find a generous feast of some of Fortnum & Mason favourite biscuits, namely pistachio and cranberry, chocolate and macadamia nut, lemon curd and clotted cream digestives. We predict that it will be a palpable hit and a very popular gift.
This food box contains the very best of Brindisa. A delicious creamy cava, three more wines, two cheeses, a superb range of Ibérico charcuterie, and the prized ventresca cut of tuna are among the long list of outstanding products. This is really two hampers in one, with chilled products for now and luxurious Pantry additions.
For a real treat try the Artisan Food Hampers from Belleek Castle. The lovely people there can make up delicious bespoke hampers to your taste; includes treats from their award winning restaurant – jams, marmalade, lemon curd, dressings, black & white truffle oil and chutneys.