To put it mildly, Dad's often get the short end of the stick when is comes to Christmas Presents. All to often a lot is expected from Dad's, when it comes to gifts sat under the tree, but when it come to dear ole Pop, the feeling isn't always reciprocated. Father's are often met, come Christmas Day with an underwhelming token of our appreciation, whether is be socks, booze or after shave, by the way, nothing wrong with any of the aforementioned gifting categories as long as it isn't from Primark's finest selection pack, a bottle of Morinov (yes Morrisons own Vodka Brand) or that ole favourite and often recycled, a Hai Karate gift set !
Having a staple jumper in your wardrobe is essential, and we love this one from Marks & Spencer's Best of British range, made from pure cashmere, spun in Scotland. Furthermore, the characteristic Scottish handle of this jumper is a result of drawing soft water from the local well. Tactile and warm, choose from an array of rainbow colours to brighten up dreary winter days; fibre-dyed yarns promise a more lustrous and even colour for your jumper. Go on you know it makes sense !
Ahhh Pyjamas, the inimitable and rather unsung Father's Christmas Gift, never in this case as these are from the King of the Traditional American Christmas himself, No not Nat King Cole ! Mr Ralph Lauren, of course. Look every regal in this traditional jammies. In fact, have a holly, jolly Christmas and have the whole family in matching one ! Maybe not.
Always a winner, help Dad's stay warm these Holidays with a pair of gloves courtesy of Banana Republic. These great examples of leather gloves not alone look the part but won't have dear ole Dad hiding his hands away, shoved into his jacket pockets.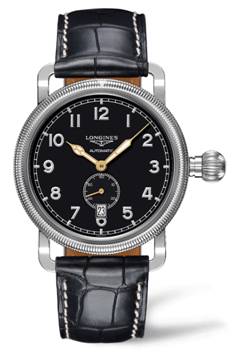 Now if you have some making up to do with your Dad or if he's been a particular Star this year then make him feel super special come 25th with this Longines Avigation Oversize Crown Watch. Its Scratch and Water resistant, is self winding and has a tres chic Black Alligator strap. You'll be the apple of his eye once more and all for the right reasons.
This is a real investment piece by Louis Vuitton and something your Dad will have for many years to come, which will always remind him of you whenever he wears it. This is no ordinary run of the mill scarf, yes it keeps you warm but its a real statement and shows Dad, he's one in a million.
There are certain fragrances that are unmistakably Father Fragrances, the sort tat when you smell them you are transported back to years gone by, watching your Dad shave and wishing you could too. Aramis is the Daddy of all mens Fragrances and this excellent gift set offers not only great value but everything that a Dad could possibly want from a grooming range.
This beauitful gift box contains a week's supply of Hamilton & Hare tailored boxer shorts. Each boxer is individually embroidered with each day of the week. Savile Row expertise go into each pair ensuring a more flattering and comfortable fit. The finest two ply twill cotton, mother of pearl buttons and a silk lined fly, all go into these superior underwear.