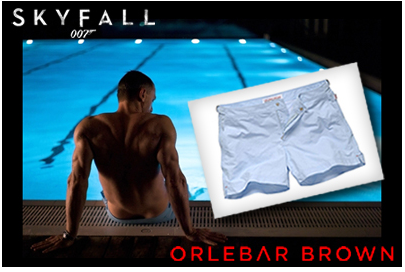 Since Daniel Craig, came on board as James Bond for the new millennium, there seems to have been a great deal made about him or if I be blunt, his body. To the point, when 007 was seen in SKYFALL going for a bit of a swim, as one does, in his rooftop hotel pool in Shanghai, what can only be described as a hullabaloo was made about what Swimwear he was wearing.
The phrase, worth its weight in gold, is one that is banded about far too much, in my opinion, however in this instance nothing could be more accurate. Any endorsement with a Bond connection is a brand's dream, every man wants to be Bond and every woman want to be with him. After that, now famous, scene the world went MAD for THOSE
swim shorts, with very fella thinking he could put them on and look, even just a little, like Daniel Craig's Bond. So who produced
these swimwear ? The answer is simple, the name is Brown, Orlebar Brown.
The idea for Orlebar Brown came together during a holiday in India for a 40th birthday party.  Attended by mix of age groups from about 25 to 60 years old, gay, straight, married, single – women looked great, men did not look great.  Also always had to change for lunch as could not wear swim shorts in poolside restaurant at hotel – although not always the case, set the idea in place for a short you could swim in rather then just a swim short.So launched in 2007 by photographer Adam Brown, the brand specialises in stylishly tailored swimwear, carefully crafted in Europe from durable fabrics designed to last. Brown describes his trademark swimwear as, "Tailored fit, colour and dual functionality; for example, not a swim short but a short you can swim in."                                                                       
And their clientele as, "The man who enjoys clothes but might not be obsessed with fashion. He already has his own evolved sense of style and the ability to re-interpret Orlebar Brown clothes to suit
him and the way he wants to dress."
The very first swimwear Brown produced he christened the Bulldog and even today are the best selling style for the brand. As their website states, "The Bulldog is the perfect 'bridge' short, expertly tailored for style and for comfort. Wear
on and off the beach. Our OB Classic short will take you through the day with versatile quick-drying
fabric."
So as the sun starts shining and even if we are home or away this summer, channel a little bond whether in Barbados or Bognor.