Imagine a community of likeminded sneaker passion individuals all found in the one place, both buyers and sellers connected in the resale market tapping into a global demographic all looking to purchase the hottest trainers available.
Well at Laced they act as the bridge between these two communities, allowing products to cross safely and quickly between the two, where authenticity is everything and speed is critical. 
Founded in 2018, what began as a desire to improve the resale process, has now developed into a fully fledged, fully functional platform which is growing by the day. They understand the resale market can be a difficult and sometimes stressful one to navigate, the apprehension that comes with buying from anyone other than a retailer is natural, and the fear of getting ripped off or conned is something they wish to irradicate. Their specialised authentication team meticulously checks each pair that passes through Laced , so you can rest easy in the knowledge that there will be no nasty surprises when you unbox that coveted pair.
So check out below their top 10 trainers available this week.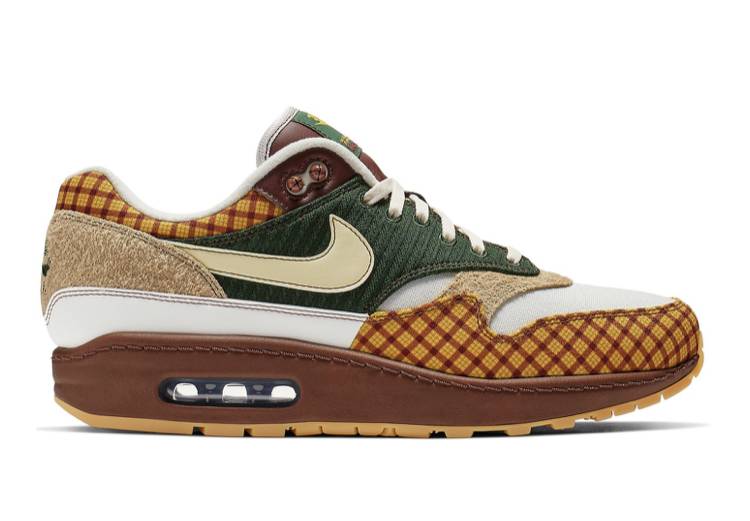 Missing Link x Nike Air Max Susan – Available from April 9th
Coinciding with the release of the animates flick Missing Link, which serves as inspiration for this unique take on the Air Max, the interestingly names Nike Air Max Susan pays homage to the film's protagonist, matching the shoes green and plaid overlays to the tux worn by the Bigfoot-like creature. This models nickname is pulled straight from some of the film's dialogue where Mr Link first introduces himself as "Susan". If you know, you know. 
Nike Zoom LeBron 3 Home 2019 – Available from April 11th
We are experiencing a court shoe resurgence in 2019 and following in the footsteps of GOAT Michael Jordan, future Hall of Famer Lebron James is revamping one of his first signature silhouettes. The Re-release of 2005s Zoom LeBron III is something fans will be more than pleased to see, and no colourway for the model is more iconic than the black, white and red "Home" makeup. This shoe is nostalgic, unmistakably classic, and still holds up 14 years after its initial release.
Nike WMNS Air Max 720 Pink Rise – 11th April
Continuing the success of Nike Air Max 720 silhouette, the Pink Rise colourway drops as a women's exclusive and combines a mostly white upper with a striking Pink full-length 720 air unit for which the model is famous. The Air Max 720 has etched itself into history as one of the defining releases of 2019 so far, and the consistent stream of new colourways to add to its ever-growing catalogue doesn't look like it is slowing down any time soon.
Nike Air Max 98 On Air La Mezcla – Available from 13th April
The On-Air contest winner for New York, designer Gabrielle Serrano decided to take the classic Air Max 98 silhouette to paint a picture of diversity, one that she feels best represents the big apple. Contrasting skin tone like hues across the designs upper to celebrate ethnic diversity in her city, you can definitely see why Serrano's idea stood out, aesthetically pleasing, while still telling a story, everything a creative colourway should do.
Nike Air Max 1 On Air Tokyo Maze – Available from 13th April
Emerging as the On-Air contest winner for Tokyo, designer Yuta Takuman uses the Air Max 1 silhouette as a canvas in which to paint his abstract expression of the Tokyo subway network, while the red bubble pays homage to the iconic Tokyo Tower. This design is striking, with its maze-like black and white upper taking centre stage, but not to be underestimates are the shoes supporting elements, rainbow laces, and red air bubble make sure this shoe will get you noticed.
Nike Air Max 97 On Air Shanghai Kaleidoscope – Available from 13th April
Inspired by the clouds in the blue skies above Shangahi shifting and dissipating to create new forms and shapes, designer Cashu Ru became one of the six winner of the Nike On-Air contest for his abstract reimagining of the Air Max 97 silhouette which sees the shoe's upper develop in a pale sky blue complexion which white accents. The Shanghai Kaleidoscope is identifiable as being akin to its source material even without the explanation, and that is what makes this design so exceptional.
Nike Air Max 97 On Air London Summer of Love – Available from 13th April
London's winner of the On-Air contest decides to take us on a very personal journey back to a first date experienced on Primrose Hill. Visual designer Jasmine Lasose dressed the Air Max 97 in an explosion of vibrant colours, including orange, green, blue, neon and purple hues to celebrate summer in her city, as well as the love experienced within it. This model is finished with finer details which include "97p" printed in a pattern on the wavy stripe overlay, along with "Good Chat" detailed on the pull tabs, a very personal homage to her source material.
Nike Air VapourMax Plus on Air Paris Works in Progress – Available from 13th April
Possibly the most unique of the six On-Air contest winner, designer Lou Matheron, offers us up a living breathing slice of Paris via a model inspired by images of an under-construction Parisian courthouse and the colours of the surrounding job site. Highlighted details include a buckle strap that wraps across the midfoot that features an elastic band on the tongue, followed by bolted yellow Swooshes on the outer side panes, orange/white striped insoles. This design is more of a literal representation of the pieces of the city than any of the 5 other winners, and I for one welcome the variety.
Nike Kyrie 5 Mamba Mentality – Available from 13th April
Dropping as a new rendition of Kyrie Irving's signature silhouette, this design looks to celebrate Mamba Day 2019 with an exciting new colourway consisting of White and Cyber Green. The shoe sports neutral upper with a hint of snakeskin detailing as a nod to Kobe Bryant's alternate ego. Finally, hits of purple and neon green, along with red speckling on the heel and midsole are applied as a tribute to the 2009 Joker-inspired "Chaos" Zoom Kobe 5.
Nike Air Max 87 On Air Neon Seoul – 13th April
Possibly the most coveted of the six On-Air contest winners, and hailing from Seoul designer Gwang Shin takes inspiration from his homelands national flag, and the main neon signs that illuminate the city of his residence. Covered in a matte black leather base with highlighted neon red and blue colours used across its signature wavy synthetic overlay making this model without a doubt a firm early contender for shoe of the year