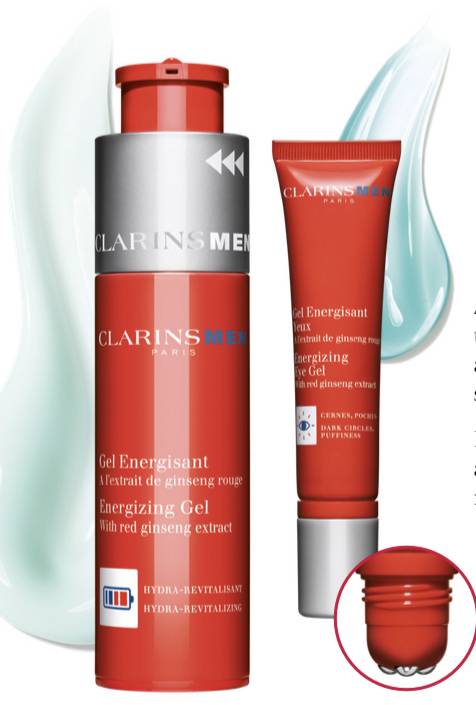 Give your skin the shot of energy it needs with the new energising duo from ClarinsMen. Full of vitality and hydration, the fresh and invigorating textures help to reset and stimulate tired and stressed skin. Studies conducted by the brand show that men's skin needs more energy. But why? There are two main causes:
1st Cause: Richer in testosterone, men's skin is thicker meaning that skin cells renew themselves faster, therefore their skin needs more energy in order to function optimally.
2nd Cause: Clarins Research revealed the impact a busy life can have on our mitochondria, also known as our skin cell's 'energy-producing factories', that help to support efficient cell function.
The mitochondria can become damaged by oxidative stress brought on by continuous exposure to external aggressors and therefore produce less energy, which means cell function slows down and the affect on the skin is visible: loss of radiance, signs of fatigue and premature skin ageing.
Tired and stressed skin can look dull with a puffy eye area and dark circles, whereas skin that is energised is toned, hydrated and supple, whilst being protected from external aggressors and pollution. The solution?
ClarinsMen Innovation: [G-Red Complex]
Introducing a new generation ingredient complex developed by ClarinsMen using organic red ginseng extract that helps to boost energy production when mitochondrial activity has slowed down, which in turn helps to preserve the efficient functioning of skin cells even under the effects of external aggressors. This means that more energy is produced, and skin cells continue to function well. Red ginseng is known for its exceptional ability to energise and stimulate, as an adaptogen plant it helps the body to resist all kinds of aggressions, extreme temperatures and the effects of stress. It is matured for six years which increases its richness in active molecules that help to boost the skin's energy production. This powerful plant extract is paired with organic bison grass for its energising properties, and gymnema extract which boosts the synthesis of ATP – the energising molecule required for healthy cell functions, when combined their energising and soothing properties help to stimulate the skin.
In one step this fresh, toning gel energises, hydrates and strengthens the skin whilst leaving an invisible non-oily and non-sticky finish.
An immediate refreshing effect of -2c.
Energising Eye Gel is an ultra-refreshing gel that revives the eye area by reducing dark circles and puffiness, whilst hydrating and strengthening the eye contour.
Dispensed with a cooling tri-ball applicator that massages and refreshes the delicate eye area.
Alongside the ClarinsMen [G-Red Complex], these two energising formulas are boosted with the protection of the Clarins Anti-Pollution Complex. Now in its eighth generation, the innovative Anti-Pollution Complex has continued to evolve alongside changes in our environment to incorporate the latest scientific discoveries. It is a powerful fusion of three highly- effective plant extracts that offer multi-protection against skin stresses linked to pollution, including discomfort, redness, and signs of premature ageing.
✓ Furcellaria extract has a second skin effect to help it physically protect the skin against dehydration caused by pollution ✓ Organic nipplewort extract has anti-free radical properties that help to stimulate the skin's natural defences against environmental aggressions, indoor and atmospheric pollution
✓ Organic white horehound extract is a plant that thrives in highly-polluted soils, its extract helps to protect skin against atmospheric and indoor pollution A Plant-Powered Duo
This plant-powered new energising duo has also been formulated with the following botanical ingredients:
✓ Organic houseleek extract to help the skin resist dehydration
✓ Bamboo extract to help promote firmer skin
✓ Organic oat sugars to fight skin dryness and soothe sensitive skin, as well as providing exceptional tightening benefits
✓ Plant-based caffeine for its toning effect on the face whilst visibly reducing the look of under-eye bags
✓ Organic horse chestnut flower to help activate the skin's micro-nutrient network for a boost in radiance Responsible Beauty
When developing our plant-powered formulas Clarins have always respected the delicate balance of nature and biodiversity. For every plant extract used, Clarins Research ensure its traceability, making sure its future is not threatened and favouring fair trade programmes. The new energising duo is formulated using five organic plant ingredients and housed in packaging formed from recycled materials with outer cards sourced from sustainably managed forests.