Words by Cameron Mclauchlan
Summer is here and doesn't make all the difference ?  In this week's edition of something for the weekend we've created a full black out-fit in mourning of Federer's loss at Wimbledon last weekend….
All distasteful jokes aside, black — I feel is  a very underused colour during the summer months and with flares of colour coming in the form of patterns and embroidery you can build a super-clean standout fit.
Other than the obvious unbearable sun-absorbing connotations the word black brings in summer, the thickness, design and drape of the clothing item regardless of colour plays are heavy part in its wearability in the heat.
So without further ado lets get into this weeks fit:
1. FLAGSTUFF Dragon Print Shirt – £485.00
This shirt in collaboration Japanese artist Kaneko Tomiyuki is perfect for summer both in its colourful construct and material composition coming in the way of 100% Rayon. For those who don't know Rayon is a slim-like material made from cellulose found in trees such as Bamboo, Pine and beech trees.
F-LAGSTUF-F or  FLAGSTUFF as their commonly known is a relatively new brand. Inception 2014. But has seen a meteoric rise in popularity. Nobuyuki Murayama started the brand largely as a result of his exposure to American culture and skateboarding dating back to the the 90's.
Nobuyuki originally started selling tee's at a store in Harajuku, Japan, back in 2014 and then opened his products up to buyers towards the end of the year. In an interview with supplystore.com the founder spoke on his original reference points of American culture:
"I started digging more deeply about music, fashion and overall culture in the U.S. Also, because I used to work at vintage clothing stores which mainly carry U.S vintage items, I did lots of research about items from 100 years ago to present. Currently I'm making clothes that is inspired by 1980's to 90's, but I actually have been really fascinated by 40's to 50's military products, workwear, and even rockabilly style fashion."
FLAGSTUFF whilst  originally making graphic Tee's which is still by and large its product array, in addition offers a solid width of accessories and outerwear. You can find the brand on sites such as End,HBX, GoodHood & Mr Porter. To shop the shirt and see more from
FLAGSTUFF hit the link below:
https://goodhoodstore.com/store/flagstuff-longsleeve-hawaiian-shirt-black-42499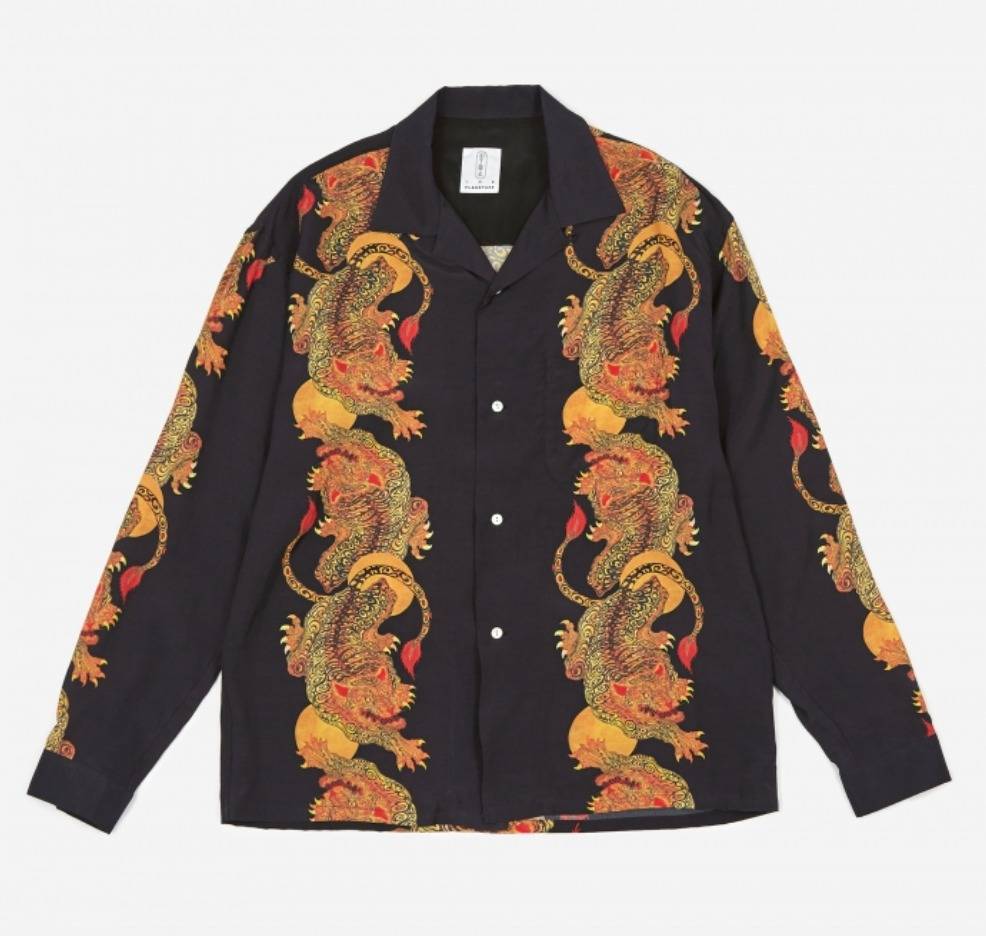 2. Carhartt Cargo shorts – £90.00
Carhartt bottoms whether they come in the form of pants or shorts are a staple for anyone man or woman wardrobe. They will last a lifetime.
Carhartt or CarharrtWIP (Work in progress) was started in New York by Mr Hamilton Carhartt. He originally began crafting denim overalls. In 1910, Hamilton expanded his enterprise opening factories in Detroit, San Fransisco and Dallas. A year later in 1911 'The Carharrt Automobile Corporation' was set up producing around 300 cars per year. A venture which has since ceased.
During WW1 Carhartt produced workmans uniforms for U.S. Military with the iconic Carhartt CO1 jacket coming some 9 years later in 1923. Hamilton passed away in a car crash at the age of 82 leaving his company to his two son's Hamilton Jr & Wylie.
Since these pivotal milestones of Carhartt history the brand has continued to receive large and steep growth both in its production of workwear clothing for the  industrial sector and the brands cultural prominence in streetwear, hip-hop, skateboarding & BMX all areas in which the brand has either teams (Skate), ambassadors or collaborators — mainly through its WIP line. Recent collaborations include Nike on the AirForce1 and 95 silhouettes and Patta the Amsterdam born streetwear brand.
To shop the shorts hit the link below where you can shop more from Carhartt and find out more about the huge U.S. workwear brand:
https://www.carhartt-wip.com/en/men-shorts-cargo/regular-cargo-short-black-380_1
3. Suzanne Kalan 18ct Gold Rainbow ring – £2015.00
Quite possibly one of the coolest rings I have ever seen despite the fact its a womens ring, probably appealing to a 6 1" male me due to the fact I have embarrassingly small hands. Hard to deny it's chaotic good looks still.
The ring features an 18ct band with 1.74ct sapphire baguettes which surround half of the band. I have also seen a similar looking ring on Tyler The Creator which has further drawn me to this style of ring. Rainbow Rolex Daytona wouldn't go a miss in this rainbow world either.
Award winning Jewellery designer Suzanne Kalan from a young age had been exposed to the world of jewellery, her father owned a Jewellery store allowing her to grow up learning about the processes of design and the business operations of a jeweller.
As Suzanne grew older she began creating Jewellery for friends until she was approached by a retailer to produce her own-line of Jewellery, with her company subsequently starting in 1988. Suzanne is known for blending fundamental techniques of jewellery making with her own avant-garde vision, a vision  which has given her great success and seen her receive numerous awards including the
'Couture Design Award'. Her distinct design is such as the one above an 18ct band with juxtaposed jagged stones.
Based now in California Suzanne continues to operate with the help of her Husband and Daughter playing key roles in the business her daughter helping as an additional designer.  
To shop the ring below hit the link below:
https://shop.doverstreetmarket.com/dsm-jewellery/suzanne-kalan-halfway-rainbow-sapphire-band-rose-gold
To see the brands full array of products and find out more :
4. Acne Studios Rockaway Runners – £360.00
Completing the fit, we have the relatively new baby of  the high end sneaker world — the Rockaway runner by Acne Studios. Rivalling the likes of Balenciagas Triple S, McQeens Wedged sneaker and the Margeila Replicas. This with its own unique identity. Hence its success.
Acne Studios, the Swedish house hailing from Stockholm was founded in 1996 by Jonny Johansson and three others with Jonny remaining the Creative Director as of today.
Ambition to Create Novel Expressions abbreviated to ACNE began by making 100 pairs of jeans with standout red stitching, given to friends and family. In an interview with Vogue Australia Jonny stated "When we started we never wanted to be a fashion streetwear brand or read-to-wear brand, we just said we wanted to do fashion." ACNE whilst creating its own distinct fashion shows also has its toe heavily dipped into RTW/streetwear scene with their new face Russel Westbrook being a testament to this.
But with that said that kind of sums up what the brand is — if you can do so in such a short statement — its a journey of creating whatever they want at any given moment focussing on the honesty of spontaneity  rather than the pressure of concept after concept. It's ok to want to make pieces for the runway and everyday pair of jeans and a sweatshirt… A strategy widely employed by nearly all designers of today.
To link is below to shop the runners which are stocked in other colours :
https://tres-bien.com/acne-studios-rockaway-multi-black-fw19