The October half term 'break' has either started or is about to start depending on where you live in the country. So in all honesty it's Full Scream Ahead for a Halloween of Scares and fun for all the family. Once again this entertainment guide is bought to you in partnership with the help of those were-boys and ghouls over at Marks & Spencer.
First up this Halloween you can join a range of spook-tacular events across incredible Merlin attractions literally up and down the country:
From The Dungeon experience in Edinburgh, York and London, Madame Tussauds, SEA LIFE Centres everywhere from Loch Ness, Bray in County Wicklow, Manchester, Blackpool, Brighton and Weymouth, Coca-Cola London Eye, Legoland and scare yourself Shrek-less at Shrek's Adventure!
Now if you are planning a trip to the Capital over half term, The Stylish Dad in conjunction with Clothes-Make-the-Man.com recommends the The Big London Ticket. To ensure that guests get the best savings whilst experiencing all of Merlin's famous London attractions this Halloween, The London Big Ticket allows guests to visit a combination of all of London's best attraction starting from two attractions for £40. With each attraction providing a unique Halloween experience, the London Big Ticket is the perfect answer for those looking for a fun, family day out during the Halt term holidays.
Hywel Mathias, Divisional Director for the Merlin Entertainments London attractions says: "We have a truly spook-tacular, yet magical offering across all of our London attractions this Halloween and there really is something for all the family. This October they can enjoy all of Merlin's wonderful Halloween events on offer for a great price."
Now if don't fang-cy that how about a touch of magic ? The British Library is hosting an excting new exhibition Harry Potter: A History of Magic, exploring the different subjects studied at Hogwarts; from potions to herbology, as well as detailing the history of magic, itself. (From Friday 20th October – Wednesday 28th February 2018.)
Or how about spending the night at the Museum of London? Trick-or-treat your way around the galleries by torchlight, see the haunted k9 transport center, solve a spooky crime, listen to terrifying tales from 19th century London and then, if you can, bed down in the museum galleries.
Now don't worry all the fun of the break isn't just restricted to London. After the success of Halloween in the City, Manchester is not only out to top itself on last year's proceeding, but will be transforming itself to rival Transylvania !!!!!
A trick or treat trail, momentous monster, haunted maze. Pumpkin patches, family films, spooky stage acts and a goth catwalk show. You'll be able to follow the Day of the Dead-style parade and take part in The Big Dress Up – strut your gory stuff to win scarily good prizes, are just a few of the merriment of offer.
What about an activity open to you wherever you live and much closer to everyone's home is a good fun session of Trick or Treat. Now while some of us like to go for it when it comes to dressing for the occasion and favour the notion of more is more, like being mistaken for an extra in the Walking Dead. Others are a little more reserved, nonetheless still wanting to partake in the delights of All Hallows' Eve. No matter if your a Dad, Grandad, Uncle or nephew, we have costume suggestions for any demon-graphic. For the youngest members of the family, make baby's first Halloween one to remember;
Or Dad you don't have to go hell for leather at this time of year and like Christmas Jumpers, maybe you'll want to wear a piece of clothing more than 1 day a year, this t-shirt is perfect for wearability post 31st October. There are some great examples of knitwear out there aswell, just in case it takes a turn for the worst.
Now teenagers are notoriously hard to please and can be difficult to coerce into participating in the festivities, particularly if we are seen to be enjoying ourselves, so outfits like this skeleton onesies from Marks & Spencer are an ideal compromise.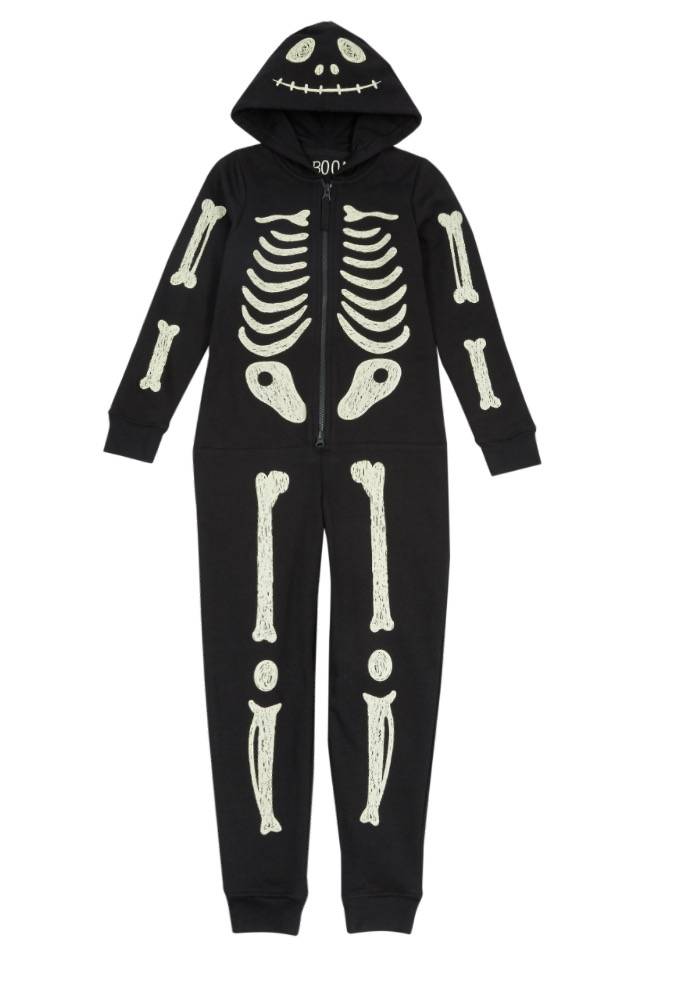 Errrr we can't forget the most important people to complete the halloween party are the younger members of the family who undoubtedly will be leading the proceeding with gusto and wanting to look the part whether that be a pumkin, werewolf, mummy or zombie.
One thing we must not forget is the accessories, those little finishing touches which make all the difference, one being the ubiquitous Trick or Treat bag to collect all those essential goodies which will keep those lil delights awake all night long with sugar rushes which will no doubt come to a unhappy end, but don't forget you need to return the favour to those all fiendly friends and relatives to stock up those cupboards with some of the below delights.