British Menswear Design Genius, Oliver Spencer and Italian Heritage Sportswear brand, FILA have collaborated on a sustainably produced collection inspired by over 100 years of FILA's rich sportswear heritage taking its inspiration from Wes Anderson's iconic 2001 classic, The Royal Tenenbaums. The collection will be exclusively available at Oliver Spencer, FILA and at MR PORTER. 
Olie will be contributing 10% of sales towards the MR PORTER Health In Mind Fund which since 2019 has provided content and fundraising initiative in partnership with Movember, developed to raise awareness around men's mental and physical health, and is fundraising dedicated to helping men lead happier, healthier and more fulfilling lives
This versatile collection consists of FILA classics seen in the Hayward Jersey Jacket, Benedict Polo, and matching Ari Jersey Shorts. Harking back to the timeless style of iconic FILA tennis players from the 1980s, the collection brings an updated twist on heritage styles. Oliver uses the influence of Dapper Dan to FILA's iconic sportswear style with his own contemporary take on lifestyle; giving the collection a fluid easy-to-wear feeling.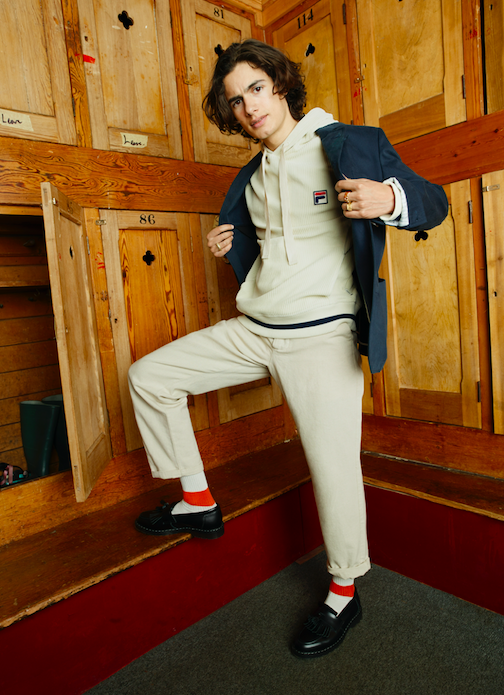 Sustainability has been at the forefront of Oliver Spencer's brand for many years, this collaboration continues their efforts to produce ethically sourced, sustainable goods. Alongside this, all packaging is made from sustainable, recycled materials.
For this collection Oliver has specifically developed a terry-towel corduroy that is super-soft and exudes richness of colour. Hero pieces made in Oliver Spencer's Auckland Navy, Auckland Red and Auckland Cream pay tribute to the classic FILA colourways seen on and off the court for generations.
"I am very excited to be working with such an authentic, heritage sportswear brand. Working together to fuse lifestyle and sportswear we have produced an exciting collection that is selling through our long-standing partner – MR PORTER. The collection feels very nostalgic, yet modern while using all of our sustainable credentials" Oliver Spencer, Founder & Owner.