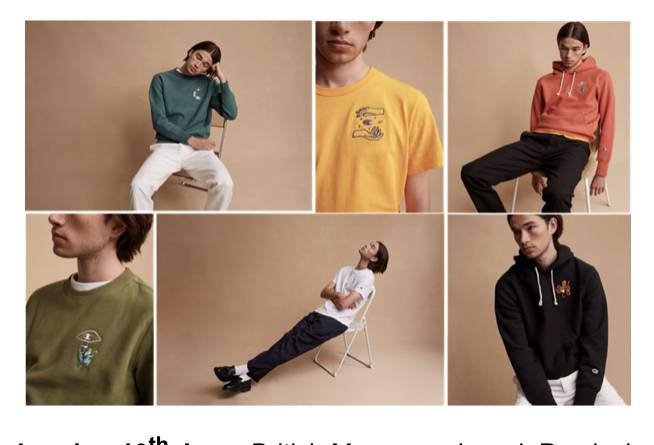 Percival, the Great British Menswear brand, known for combining a quintessentially British sense of understated style and rare, internationally sourced fabrics and materials. Signature styles include the Pea Coat, Wax Mac, Sheepskin Whitley and custom prints. Who's ever increasing celebrity fan club include David Beckham, Benedict Cumberbatch, Rick Edwards, Jim Chapman, Alex Turner & Matt Helders.
Have teamed up with, the equally iconic, US-based athleisure and heraldic brand, Champion. Champion's distinct brand image, which dates back to 1919, is defined by an American athletic heritage and a reputation for providing innovative and durable products. This is epitomized by the classic Reverse Weave sweatshirt that since its introduction in 1934 has helped to establish Champion globally as the definitive and original Sweatshirt Brand. For their latest collaborative collection launch, suitably called, "Daydreaming".
By making in London, Percival is able to drop multiple short runs of product a year, keeping its offering fresh & varied. This Sterling collaborative project, titled "Daydreaming", sees a limited-edition capsule collection merge Champions iconic silhouettes and styles updated with Percival's novel and creative embroidery motifs, loosely representing headspace and time alone – a place your mind goes to when you daydream. The collection was created using classic Champion Reverse Weave sweatshirts, hoodies, and t-shirts in various seasonal and neutral tones, from traditional and timeless black to vibrant orange and teal.