Words by Marcus Bartolo

Everyone is spending just that little bit more time on Social Media these days, probably due to the lack of social interaction we are experiencing currently, we all needs something to read or look at. With Instagram having over a Billion monthly active users, it's safe to say that it's a go to app to pass the time. From the Frow to streetstyle, we've narrowed down the 5 fashion insiders you should be following on Instagram to get the inside scoops.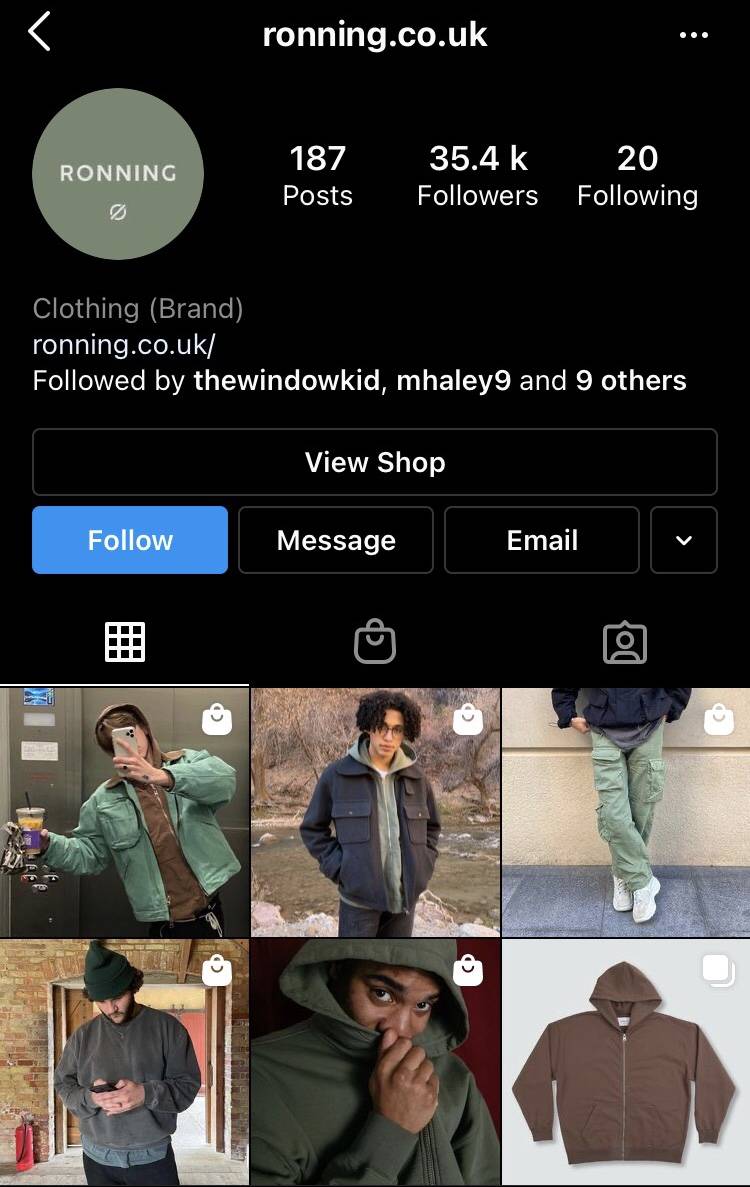 Robbing.co.uk
What I love about the essentials by Ronning is the quality and the fit. As Ronning is a small operation, there is more care in production, all items are made in Portugal. The style and silhouettes are similar to Yeezy Season 2 SS16. It is good to support smaller businesses in the fight against fast fashion.
• Ronnning.co.uk Great for all your essential items. Amazingly durable quality garments, for everyday wear.
• https://www.ronning.co.uk/
• Favourite Items
• 1.Washed Charcoal Everyday Hoodie £95
• 2.Black Mohair Cardigan £135
• 3.Washed Black Carpenter Jeans £105
Yanagihara.p.tasuku
What I love about Yanagihara.p.tasuku is the way his trousers fall onto the shoes. The use of more relaxed fitting trouser and chunkier shoes provides and effortless stylish aesthetic.
If you need inspiration for trousers then look no further.
The perfect blend of smart wear and Japanese workwear.
Favourite Items
2. Engineered Garments Trousers (Similar to trousers pictured)-https://www.nepentheslondon.com/eg-f004-fatigue-pant-black-cotton-8w-corduroy.html- Currently in The Sale!!!£156
Reisebastien
What I like about Reisebastien is his use of Highstreet brands such as Uniqlo, Topman and COS. And how he creates very elegant and stylish outfits, putting the emphasis on light monochromatic colours. Perfect smart casual wear for fair value prices.
• Great account to follow for cheap well put together outfits. If you are looking for items to fill your wardrobe, then Reisebstien is a wonderful place to start.
• Favourite Items
• 1.COS Long Wide-Leg Trousers (Made With 100% Recycled Wool)https://www.cosstores.com/en_gbp/men/menswear/trousers/product.long-wide-leg-trousers-black.0848546001.html-£89
• 2.UNIQLO Mens Work Jacket-https://www.uniqlo.com/uk/en/product/men-washed-jersey-utility-jacket-433066.html?dwvar_433066_color=COL01&dwvar_433066_size=SMA001&cgid=IDm-coats-jackets-£34.90
Nigel Cabourn
"Part-designer, part-archivist, Nigel Cabourn is truly someone whose passion for the rich heritage of menswear knows scant equals. Cabourn has remained a major player in the fashion industry since the early 1970s. Despite an ongoing presence for almost 50 years, the British vintage clothing expert still operates mostly under the radar".-(Article London)
Absolutely legendary designer Nigel Cabourn is the pinekel of mature fashion.
Duffel Jackets, overalls and amazing trousers- a must follow.
• Favourite Items-
• 1.Blanket Jacket- https://www.cabourn.com/products/blanket-jacket-multi-stripe- £395
• 2.Naval Dungarees-https://www.cabourn.com/products/black-navy-dungaree-naval-£295
• 3.Arctic Jersey Pants- https://www.cabourn.com/products/arctic-jersey-pant-raf-grey £90 in sale
Tomamadeus
Not noticeably big on Instagram, meaning that not a lot of people will be trying to replicate the same style. His outfits are compiled of easy to wear and excellent quality products that will be able to stay in your wardrobe for a long time and be versatile to changing styles.
Good person to follow if you are getting to grips with layering. Really great outfits for winter.
Favourite Items-
1. Taion Vest (Inner Down Wear)-https://www.thehipstore.co.uk/product/blue-taion-v-neck-button-down-vest/15969663/- £45 In Sale
2.Universal Works Military Chinos(Similar To Photos) https://universalworks.co.uk/collections/trousers-and-shorts/products/universal-works-military-chino-in-taupe-cord -£65 in sale
3.FOLK Car Coat (Similar to one pictured) https://www.folkclothing.com/collections/mens-outerwear-1/products/car-coat-navy-check
£150 in sale