There can't be many fashion brands on the planet as Desirable, Aspirational or in demand as Supreme, at the moment. Already, I've committed a moral sin against the brand by describing them as a fashion brand, but surely to describing it as a street wear brand is also serving it an equal disservice ?
When James Jebbia launched this skate apparel brand back in New York in 1994, he, surely, couldn't have anticipated the heights, hype, and clamber his baby would create some twenty odd years later? Equally, he can't have foreseen he would work with hyper brands including Nike, The North Face, Levi Comme des Garçon etc.
BUT, and I'm really asking for it now, have they over stepped the mark? Have they sold out? Are the taking the piss ? I ask these statements as questions, because I too am genuinely not sure. When, one of the oldest Fashion Houses in the world, Louis Vuitton announced their collaboration with the Streetwear, Skatewear, Fashion Brand, ohhhh whatever, on a collection of dually branded clothes, accessories, shoes etc all of which debuted as part of their Fall-Winter 2017 show in Paris. People, literally wet themselves with excitement, the Fashion and style web went into meltdown and, the then, Creative Director of the Fashion House, Mr Kim Jones, was hailed a genius and a visionary. Pop up stores followed in the style capitals around the global and epic queues ensued !
Earlier this month, we saw the launch of the brands latest collaboration and somewhat of a departure and a first for Supreme when they worked with the hottest, current make-up artist legend and creative design director of Procter and Gamble beauty, Ms Pat McGrath. Producing a lipstick in the hottest of MatteTrance Supreme Reds ! And yes you guested, it's literally selling like the old proverbial hotcakes.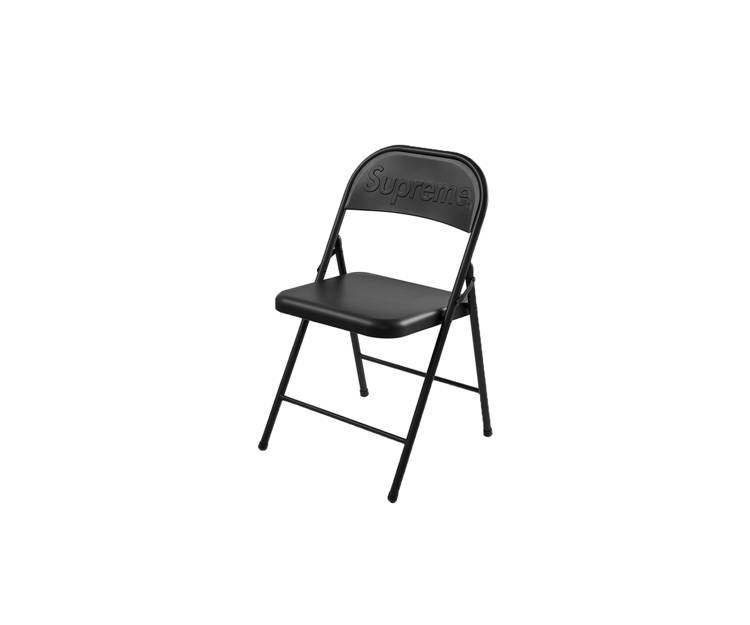 Now returning to the questions I asked prior, essentially is Supreme Masters at Creativity or the Emperor's new clothes?
I mean a simple black fold up chair, £108 ?!?!(see the actual chair above)
Supreme Hanes Crew Socks, this is a wardrobe essential, no mistake. Clean, simple yet effective design, perfect for round the house, perfect for sports activities, perfect for all attires! Can't go wrong with this pair, but £54 !(see above)  
We can't forget the Pat McGrath Labs lipstick is £123 or vintage piece of the collaboration collection with Louis Vuitton and be seen for sale online like this piece for a snip at £12,600.00, that's used.
Fundamentally, it is your choice and as I stated earlier, I'm am not sure, as I tool have been enticed, excited and enthralled, but these usual partnerships and their undoubted collectibility.