Words by Cameron McLauchlan
Firstly, Happy New Year to you all! Welcome to Something For The Weekend, the first of 2020! I'll be keeping it short and sweet this week as we all try to slug through the 5 weeks of January. Rather selfishly the first two items included in this weeks post are personal purchases of mine I was keen to share.
The Ultimate Sneaker Book by Simon Wood (2018)
This book was recommended by a friend of mine who shares an equally big love for sneakers/trainers as I do. Written and constructed by Simon Wood, the founder of sneaker well-known publication Sneaker Freaker, the 650+ page sneaker bible provides an unrivalled deep-dive into the vast history of sneakers. From Start to Finish.
The book features details on how some of the most iconic sneakers came to be, from the entire Nike lineage to Reebok, New Balance and Adidas' most iconic silhouettes. Tonnes of nostalgic campaigns from the 80's to present day are featured through the book, the interviews with the designers and collectors is what adds to make this book so great.
It also looks cracking on a coffee table. A must read for anyone who wants to either take a trip down memory lane, or learn more about how the global sneaker culture came to be.
Cheapest place to purchase the book brand new below:
Frederick Grove – Eternity Signet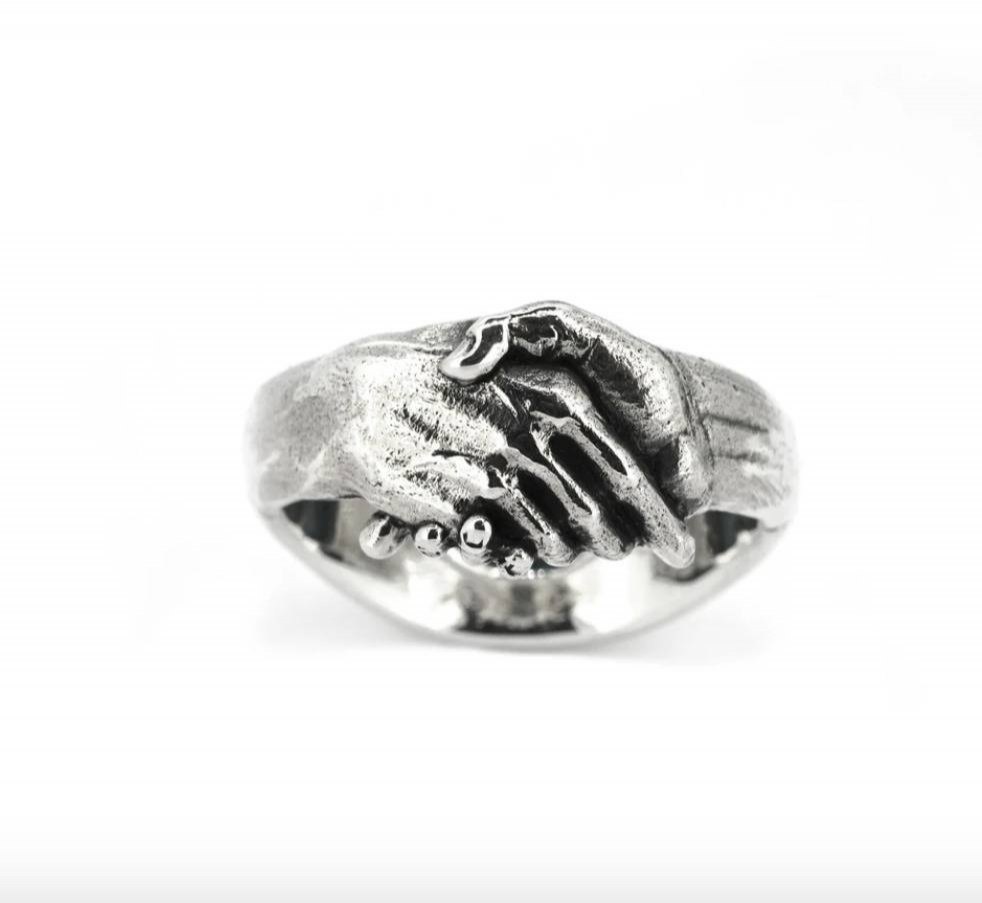 Item number two of my recent purchases is this silver ring from eponymous London based jewellery brand Frederick Grove.
I actually discovered Fredereick Grove on Instagram a year ago and ordered a different ring online to the one shown below, but it's actually going to the showroom where you get a proper feel for what the guys there are all about.
Nestled in a tucked away corner on Brick Lane in Shoreditch (having to be buzzed in through a private gate). The showroom displays all of the jewellery in a way truly authentic the the unique aesthetic of the brand, which feels very late 1800's.
The rings and necklaces are all made on the same-site as the showroom and visible next to the till with Frederick himself assisting you where he can. If your ever wandering around the area i'd definitely recommend popping in.
The quality and craftsmanship in each piece is second to none with Frederick himself having a rich family heritage in Jewellery making.  I'll leave the address to the showroom below as-well his full product offering.
Frederick Grove showroom : 8, Taylor's Yard, 170 Brick Ln, London E1 6RU
Link to the ring and entire product offering:

Comme Des Garcons x Nike Air Max 95 
Something which I am yet to purchase but hoping to this weekend  down to the fact they are these CDG Air Max 95's.
Founded by iconic Japanese designer Rei Kawakubo, Comme Des Garcons has garnered serious respect from the fashion industry and its loyal followers since its creation. The success can largely be  attributed to popularity of its diverse product lines which include CDG PLAY, CDG SHIRT, CDG Fragrance, CDG Wallet and CDG Homme. As well as ownership of its own global concept retailer Dover Street Market.
The family tree of CDG x Nike sneakers is growing quickly, with a new shoe guaranteed almost  each season. CDG have been given seemingly free rein to collaborate on any given silhouette.
Previous link ups include — 2017 VaporMax, 2018 Supreme Air Force 1, 2019 Presto, 2019 Shox TL and my personal favourite the 2017 Nike Dunk High. One thing you can guarantee with a Comme Des Garcon x Nike collab is that 9 times out of 10 the result will be a complete re-structure of the given silhouette.
Whilst this Air Max 95 is a little more conservative in its make-up when compared to previous collaborations. The exposed overspill of excess material featured throughout the entire upper looks super slick. Especially in triple black.
This 95 drops this Saturday at 11am in-store and online at Dover Street Market in three different colour ways. Details and links to the other colour ways are below:
Thanks for reading!