Words by Charlie Britton


The Idle Man, the menswear e-tailer, til now, have opened up their very first bricks and mortar store in the trendy heart of London. This 'Guide Store' is in place to build a bridge between an eCommerce and in-store shopping experience, without the task of shopping feeling like a chore.
The Idle Man, founded by Oliver Tezcan in 2014, with the aim of being the best destination for menswear apparel, shoes and accessories. Their target consumer is the regular 20 to 30 something guy, who's fashion needs are affordable and on trend, without all the nonsense. They stock a wide range of aspirational brands including Levi's, The North Face and Hudson and even have their own range of Idle Man branded products, well worth checking out, btw.

On 97 Leather Lane, sits The Idle Man store. It's grey exterior and clean aesthetic sit in harmony with the brands theme, although you may mistake it for a showroom rather then a store, not that it's a bad thing. Inside, the store feels very welcoming and warm. The subtle grey flooring and white walls give the interior a stripped back feel, allowing the limelight to shine on to the products.
The store is run by a team of stylists, who aim to offer expert advice on a hand picked collection of products, tailored particularly with their customer in mind. The Idle Man aim to continue their hassle free selling point in their store, ensuing each customer finds exactly what they're looking for, without the stress of searching through rails of built up clothing.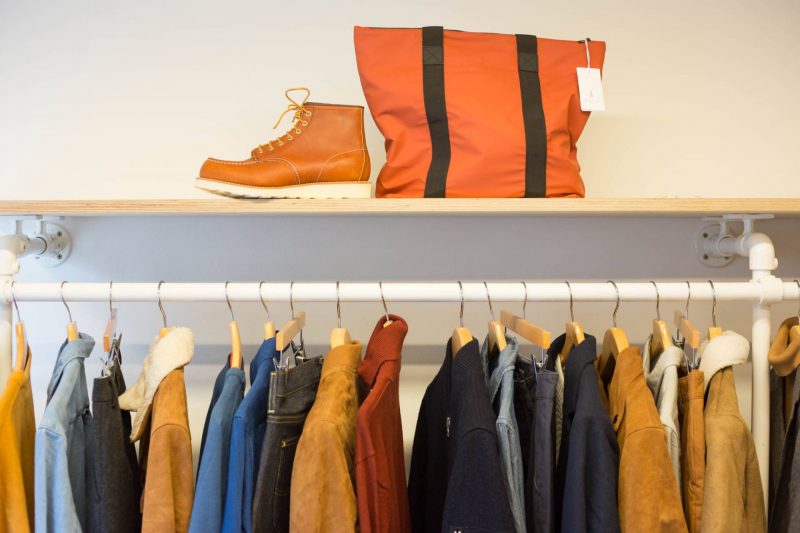 The store will function as a mid-way point to shopping online. The customers can browse the products in-store, try different sizes on and get a feel for the products, before making a purchase, where the products will then be sent to your home or office address or in to the store for collection. The Guide Store will also include a selection of lifestyle and grooming products from Filmore Skincare to Alessi and Laboratory Perfumes, just in case only clothing doesn't quite satisfy your needs.
From our point of view here at Clothes Make The Man, we like the idea of a crossover store, building that bridge between the online and in-store experience. It allows customers to try on clothing and sizes before making a purchase, hopefully minimising the chance of receiving something that doesn't quite hit the spot. It also gives you the opportunity to receive some useful advice from the stylists who know a thing or two about fashion, just in case you're unsure about something working for you.
If this is something you'd like to try out for yourself, you can find The Idle Man Guide Store at 97 Leather Lane, Clerkenwell, a short walk from Chancery Lane Underground station.