It's safe to say GQ is an institution in mens style, with issues published in over 25 countries it's literally available all over the world, but the Daddy of them all has to be US GQ, sorry Dylan. This year it celebrates the 10th anniversary of their GQ's Best New Menswear Designers in America programme and its fifth year of partnering with, US retailing colossus Gap. The project works to advance and bring attention to emerging American menswear designers. The recognised designers were selected by GQ's editor-in-chief, Jim Nelson, creative director Jim Moore, and the magazine's fashion editors, and took part in a mentoring program led by GQ and Gap. This year's collection features the best-of-the-best, the creme de la creme, the All-Stars who have gone on to build successful careers with their distinct take on American menswear.
US GQ's Editor in Chief, Jim Nelson says of the partnership, "We wanted to make the 10th anniversary of this program feel like its own declaration, a snapshot of the state of American fashion. We also wanted to make the clothes instantly wearable, easily attainable, and flat-out covetable. With these four exciting designers, and with Gap's exceptional partnership, I think we hit the sweet spot."
The collection includes everything a contemporary stylish man could possibly desire, tailored trousers and denim, overcoats, leather jackets, classic tees and sweatshirts, sweatpants, and a variety of button down shirts along with accessories — including hats, bags, and socks. Phew !
The four All Star designers are;

Michael Bastian —The beauty of Bastian's clothes is that they can be remixed a hundred different ways. "It's a great challenge," Bastian tells GQ of creating his capsule collection. "It's the difference between a novel and a good short story. They're equally powerful." But as the only designer to ever be given repeat recognition in the program (he participated in both 2007 and 2011), he was top of the list for this year's All-Star roster.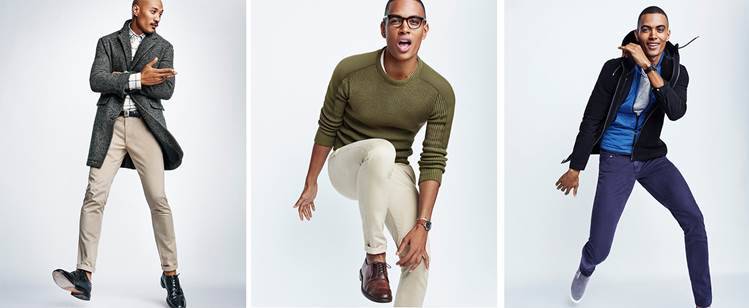 • Steven Alan — Most designers build their collections and work their way up to opening a storefront. Steven Alan did it backward. The clothes he did make (shirts, mostly) were basically private-label pieces to fill his own shelves. He opened a showroom in 1997 and gradually diversified: a striped tiehere, a polo there, until he was a capital-F fashion designer. Today he's a one stop shop with everything from shirts and shoes to sunglasses and watches, all stocked next to those under-the-radar brands he's found through his travels. That collection-curation combo is a move many major menswear retailers have since borrowed—but nobody ever nails it quite as well as Steven Alan.
• Saturdays NYC — Founded by Morgan Collett, Colin Tunstall, and Josh Rosen, Saturdays showed up out of nowhere, a magpie line that fathered all the style touch points of the moment: the surf-culture explosion, the shrunk-in-the-wash fit, and the crisp graphic designers aimed at city kids partying on the tiki-torched decks in Montauk and Malibu. What Saturdays does best, is make the brand feel like a way of life. From publishing their own in-house magazine to developing a coffee blend, their shops (now in New York, Japan, and Australia) feel like your most stylish buddy's weekend home.
• John Elliott — When Elliott first participated in the program just two years ago, he was working out of an apartment with three other guys, and the quartet has since revolutionized menswear with their side zip hoodies and tapered sweatpants. "One of the most incredible experiences of my life was going to the Gap near where I live in L.A. to look at my first GQ collection, and they didn't have anything left," reflects Elliott. He has since ascended to street wear-demigod status with his signature layered look, creating a style movement that is still gathering steam.