Every family has one,no not a Grinch, not a Scrooge, but a man who is so hard to buy for, it is almost in your family's folklore. Yes for the man who has everything, is a great post to prepare but takes so long to create as there really is so much to curate. Anyway, I hope you find this helpful
I am sure you are aware of CORGI, they are a British knitwear and sock / accessories brand, established in 1892 producing collections from their factory in Wales and continue to do so to this day. They were awarded a Royal Warrant in 1989 and as socks makers to the Royal Family they are working with HRH Prince Charles in achieving their sustainable goalsp
No your eyes aren't deceiving you this is a pack of two brass straws,mirror polish finished and are an SAINT LAURENT RIVE DROITE EXCLUSIVE and a steal at £170, for the two, of course !
Hadoro Paris Carbon Hadoro AirPods. Built fondly by a team of expert craftsmen, with an idea of premium class and out-of-the-box ergonomic style in mind, the Carbon Fiber AirPods break through the norm and take an aesthetically bold approach for your essential device. Carbon fiber is a remarkably lightweight yet incredibly durable material, ideal for AirPods, the essential everyday device. Guaranteeing excellence and quality of every piece, the production is a highly controlled and multistaged process. The original AirPods case undergoes deconstruction and is recreated in carbon fiber blocks in a lengthy carving stage. The most delicate polish, completed only manually, gives the case surface a subtle shine and accentuates the pattern. The earphones and the case interior are coated with a scratch-resistant, soft-touch finish. The case bears the engraving of the Hadoro "H" logo which can be substituted for initials of choice.
Everybody at some point wants to just through on a sweatshirt and chill. Balenciaga adopts an Ivy League approach to this crew sweat by detailing it with a collegiate-inspired graphic and arched logo on the front. Made in Italy from pure cotton, it's coloured in plain black and finished with chunky ribbed trims for added warmth.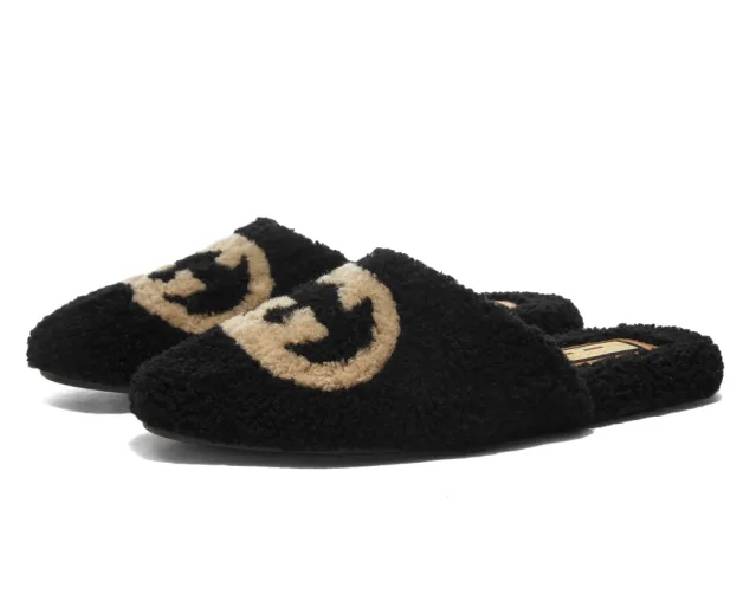 Lounge in luxury with these black slippers from Gucci. Crafted from a super-soft polyester in a deep-pile fleece, they unrivalled offer comfort with every step. To finish the luxe look, they're detailed with the interlocking double G logo on the upper.
For many, including me, a good night's sleep may be greatest festive gift of all – and OTO's The Gift of Sleep Set is guaranteed to make one's nightly rituals all the more soothing. The restorative set features the brand's bestselling CBD Sleep Drops, a pampering 8-hour CBD Night Face Mask and a superbly smooth Silk Eye Mask. Perfect for recovering from all your festive reveries.
This face covering offers comfort and protection in breathable smooth and soft interlock Jersey Knit Jacquard, all with the TOM FORD logo.
Each Harrods of London Christmas cracker is a work of carefully crafted art – from the treats within to the beautifully decorated exterior. This set of six comes in a duo of luxurious designs, bookended by satin ribbons and gold-tone embellishments to accessorise your festive table & a snip at £950.
Today's your lucky day…you're looking at the Nike X Off-White The 10: Air Jordan 1s. And it's also our lucky day, because we get to tell you that these are a deconstructed play on the Jordan 1 Chicago colourway. At this rate, at least one of us should buy a lottery ticket…the odds do appear to be in our favour. Featuring a signature Nike swoosh, a round toe, a front lace up detail, a rubber sole, a signature logo tag, a printed detail to the sole, a deconstructed style and a high-top design and these can be yours for £15,252.