Men's suits may be associated with formality, but there's no reason why they can't be part of your casual arsenal too. Styled correctly, they can be your go-to for both smart and off-duty events.
Suits don't have to strictly be reserved just for your friend's wedding. Ditch the button-down shirt and opt for a more casual feel to transition into the cooler months ahead, or style your suit jacket with a pair of your favourite jeans – it's that simple.
Happen to have a suit sitting pretty in your wardrobe, sadly collecting dust? Give it a new lease of life with Suit Direct's go-to guide on how to style your own with ease. If you prefer smart-casual ensembles, this is how to dress down your favourite suit for your everyday.
Suit Jackets and Jeans/Chinos
First up is the simplicity of pairing your favourite suit jacket with jeans or trusty chinos. No matter what shape or style your jacket may be, jeans can add heaps of laidback style to any formal outfit. Keep them on the skinny or slim side in dark shades of black or blue and pair them with trainers and a plain, complementing tee for a trustworthy weekend look.
Suit Trousers and Polo Shirts
Originally worn by polo players in the 1800s, the classic polo shirt has stood the test of time and is now a firm favourite in most men's wardrobes. It's versatile, breathable and can be teamed with pretty much anything – especially suits, and we at Suit Direct can't get enough.
They're as good as any button-down shirt when you're in need of a smart-casual ensemble to pair with your favourite two-piece, and are perfect for transitional dressing. Tone down your smartest suit with a polo shirt and just add loafers and minimal accessories.
Suits and Trainers
There's no better way to dress down your suit than with a pair of versatile trainers, like these from Ben Sherman. At Suit Direct, we love to style our formal suits with simple white or black trainers to really let the suit do the talking. You can easily style a two-piece with trainers in a casual way: just make sure the suit features a block colour (think dark grey or light blue) and that your shirt and accessories are muted and minimal.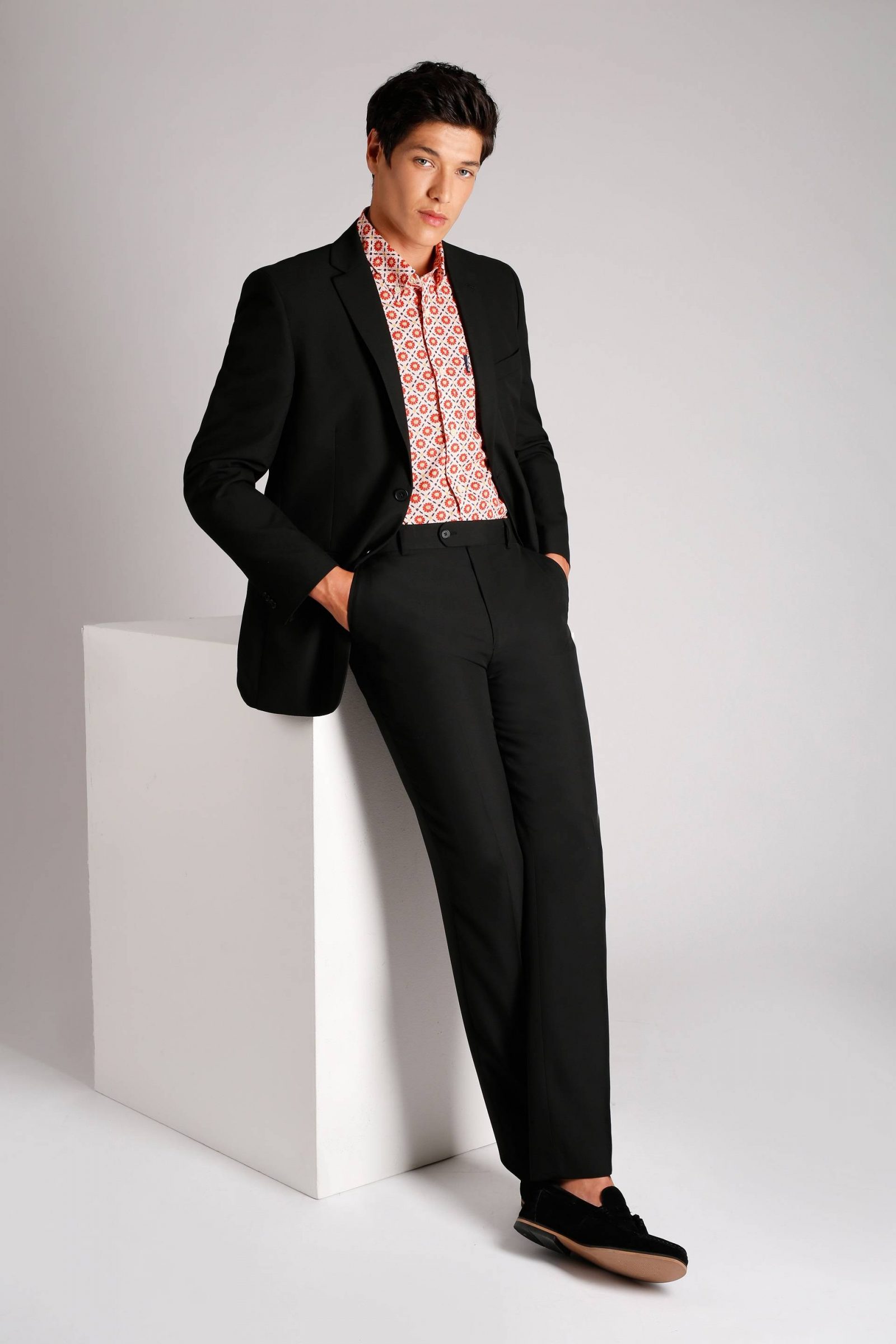 Suits and Printed Shirts
If plain tees don't quite cut it for you, why not try a printed shirt from Suit Direct instead? There are endless ways to pare back a classic suit with a printed tee: just look to Ben Sherman, who made printed shirts a staple in many men's wardrobes of the 1960s, for fashionable advice.
You could wear your favourite logo tee, an abstract and modernist tee or traditionally striped tee – anything goes, as long as the colours and tones of your outfit complement one another.