Arctic Peak is a slow-fashion brand, hey,hey I don't mean that in any way a negative manner, they take the exclusivity out of sustainability, making it accessible for everyone to care for the environment, all the while at affordable prices.
The founder, having been in the fashion industry for 30 years, saw how flawed the industry had become. For so many years, the fashion industry has put the demands of low prices and excessive consumerism before all else and at the cost of our Planet. Although the production of sustainable clothing has become more popular recently, it still remains out of reach for many due to high prices. Arctic Peak was created to allow sustainable, well-made and stylish clothing to be equally accessible for everyone, at prices that are fair.
Starting with a capsule collection of basic clothing, Arctic Peak prides itself on its 100% transparent design, production and sales process. Created with sustainable materials, ethical working conditions and the planet in mind, Arctic Peak's vision is to give back to the planet more than it takes.
Featured centre on the website, the Climate Clock countdown represents the time needed in which we must achieve zero emissions to prevent global warming from causing irreversible damage. Arctic Peak strives to educate people about Climate Change, using the Climate Clock not to invoke fear or worry but encourage consumers to become more conscious and act accordingly.
Much more than another 'sustainable fashion brand', Arctic Peak deeply embeds philanthropic efforts, Planet- positive actions and raising awareness into its core. Arctic Peak has partnered with Tree Nation, pledging to plant one tree per an item purchased in order to reduce co2 emissions and work against climate change. From launch, 1% of all profit will be allocated and distributed to non-profit organisations that empowers action against Climate Change and preserving the Arctic.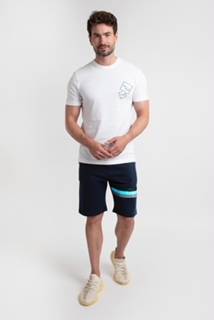 Arctic Peak is also committed to reducing waste, with the vision of achieving a zero waste circular system by 2022. Arctic Peak products are made with the finest organic and recycled materials, designed to last for decades to come. Well aware that accidents occur, Arctic Peak offers free lifetime repairs to ensure products live well beyond the average expiration date.
First drop: T-shirts, Polo shirts, Sweatshirts, Sweatpants & Hoodies. Majority of items are made from the finest organic cotton; breathable, high quality and woven to last. Sweatpants and shorts are made using recycled materials and plastic bottles, reducing the amount of plastic waste on the planet. On average, each pair of sweatpants removes 14 plastic bottles from the ocean.
All garment packages, badges and trims are either recycled or sustainably sourced.
Limited release: The Peak Collection
Using the Arctic as inspiration, the Peak Collection represents the 8 countries that make up the Arctic Circle. Arctic Peak uses this range of t-shirts, sweatshirts and hoodies in vibrant colours to raise awareness about the importance of the Arctic for our planet. The Arctic circle affects every living species on Earth, acting as a virtual thermostat for our planet. Arctic ice reflects sunlight and cools our planet, however as the worlds climate rises, Arctic ice is rapidly melting and our planet is absorbing more heat resulting in temperatures rising at alarming rates.