From 1984, with his first Men's Collection with its fetishised naked-backed men, Jean Paul Gaultier has been, in the eyes of the world, season after season, event after event, the 'enfant terrible' and, as many called him, the father, of men's fashion.
Just as he created from the corseted woman the emblem and the bottle for his female fragrance, Jean Paul Gaultier transforms the man with the sailor's top into a symbol and a bottle for Le Male, this year celebrating its milestone Silver anniversary.
The legendary French fashion designer, unleashed a fragrance upon us which was to go on and be as recognisable and synonymous as his trademark breton tops, a fondness for wearing kilts and suicide blond hair. "Le Male" irreversibly shook up the world of scents by introducing an unprecedented masculine archetype: the sensual sailor with a soft heart, to accompany this launch came an Ad campaign which equally shook up the world and is still remembered with fondness today.  Reinventing the classic, enrichening it with a new purpose and a double entendre – Jean Paul Gaultier loves nothing more!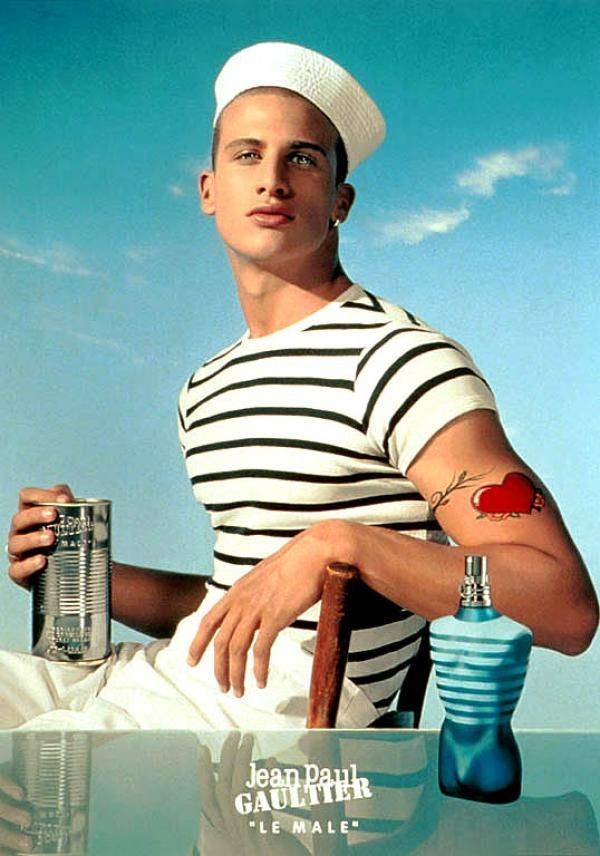 For Le Male, to make something other than another EDT for men, he wanted to revisit the traditional lavender of masculine fragrance – with the help of perfumer Francis Kurkdjian.
A strange idea when one thinks that Jean Paul Gaultier's original idea, a fragrance which evoked the sensuality of a sun-drenched naked body on the beach, a little lick-able, a little louche, to be oneself, to dare.
It starts off fresh. Like an outraged diabolo-menthe that made friends with mugwort, bergamot and cardamom, in order to state things clearly, and tease for what's to come…
Then there's lavender, married to orange flower and cinnamon and cumin, a reinvented lavender, led astray somewhat into a heart that echoes the heart of Jean Paul Gaultier Parfum for women.
Wood, musk, amber, vanilla and tonka beans, the base is fleshy, carnal, skin-loving and stroke-able.
From the head to the heart, from the heart to the base, the pulsating beat of the fragrance, its successive rhythms are each unlike anything else. You start off with a feeling of knowing and then realise that there is everything to learn. It's like a life, made up of many lives… or a man who is all men.