Unless you're doing something very wrong with your wardrobe, your head and your face is likely to be the part of your body that people first notice when they're interacting with you.
The good news is, making your hair into a solid fashion statement is one of the most cost-effective and noticeable ways you can make a good impression. That said, if you're rocking a look that's decidedly '10 years ago' – then that might not be the impression you're hoping for.
We'll walk you through 5 of the best cuts that'll keep on looking good into 2019 – and if you're keen to keep your spending to a minimum, keep an eye on sites like myvouchercodes for great deals from local barbers and hairdressers.
Long and swept back
It's not a look you can just walk into a barber's and ask for – as shoulder length takes some time to grow, but if you'd like a longer style that's certain to be popular in 2019 then going long and swept back, behind your ears, is a strong look.
Make sure your barber doesn't cut into your hair, the longer and more-sleek your hair looks, the better it responds when you get a reasonably shiny product on it that'll hold it into place.
The good news is, this long and swept back style is about as low maintenance as it gets too. Towel dry, work some cream or pomade through slightly damp hair – then comb back. Bingo.
A bleached crop
Admittedly, the bleached look might be one that's best reserved for readers under 30 – but if you're ready to commit to stripping the colour from your hair, you can really make it work for you.
The current bleached look carries on the theme of 90s Britpop and grunge style that's showing no signs of letting up into 2019. The results are better (and safer) if a hairdresser or barber does the bleaching – and you'll want to make sure you use a good purple toned shampoo to stop any brassy tones coming through.
Whether you go for bleached streaks or a solid all-over colour, a simple tussle-up with a light clay-based styling product will give you the carefree style you should be aiming for.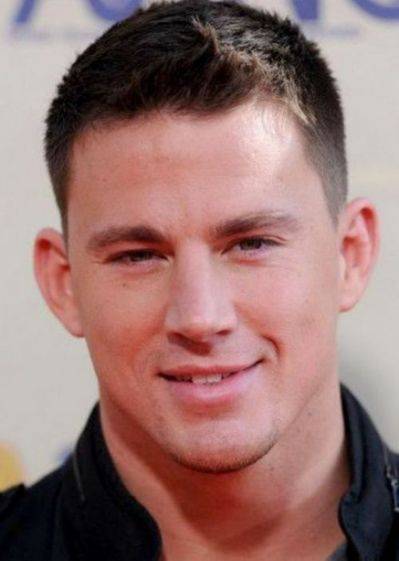 Classic crew cut
While less structured styles are going to be popular in 2019, the exception to that rule is the classic short-back-and-sides crew cut.
It's a simple style to ask for; you'll want to go for something between a grade 0-2 on the back and sides, with the top scissored down to the equivalent of a grade 5-6. The result is a classic shape that looks as good now as it did in the 50s – but be warned, it's not a style you can forget about – book back into your barbers within a couple of weeks if you want to keep it looking sharp.
A quick soft parting
While sharp partings and fixed styles were the way to go into 2017 and early 2018, there's an increasing move toward softer edges and looser partings into 2019.
Scissored around the back and sides gives a less sharp look to the overall cut – and 2-3+ inches on top gives your hair enough weight to fall naturally to one side or the other. Don't try to fight with the parting – there's no need for it to be a solid line, instead, part with your fingers when you're out of the shower and let your hair dry with nothing more than this loose shaking into the right direction.
Simple, quick and stylish. Ideal.
Grunge punk
If you're keen on a heavily textured look that's got non-conformity written all-over it, an 80s style punk mixed with early-90s grunge feel is going to fit the bill in 2019.
If you've got 3+ inches of growth, you'll want to get your barber to really cut into your hair, bringing a lot of texture – and don't worry about a sharp neckline or cut around your ears, the more consistent the apparent length, the better, as it really adds to the carefree look this haircut suggests.
The beauty of this cut is that the length allows for a swept back feel if you've got to consider how you look at work – but when the weekend comes, you can hit the product and hairspray to make a bold statement.
Healthy hair
No matter which of these haircuts you choose as being right for you in 2019, there are some hair essentials you should be mindful of. Hydration is absolutely vital for healthy hair – so aiming to drink 6-8 glasses of water each day will keep your locks shiny and full of life.
Consider taking a multi-vitamin too – this guide will help you choose one that's right for you. While vitamins in pill form are good, make sure you get plenty of fresh fruit and vegetables in your diet, including spinach, carrots, pumpkins and sweet potatoes – all rich in hair enhancing Vitamin A.