WORDS BY ISAAC PERRY
IT'SSSS CHRISSSTTMASSSS, well in a month's time it is and we are putting together the perfect gift guide for all of you Men out there whether you want to treat yourself, kids or stroppy teens this is perfect for you! Everything from simple accessories through to the OTT Christmas jumpers that we all say we don't like but actually love. Let us just start this off by saying the first thing everyone out there HAS to buy unless you want to disappoint is the classic Linx's deodorant/ Shower gel set because this personally makes our Christmas at Clothes Make The Man.
Well accessories are a must for every Gent out there and you simply cannot go wrong with a classic trucker cap. The amount of different colours and designs that you have to choose from is simply endless, however, our pick lies with Twinzz. One of the brands pure focuses since its creation in 2014 has been to create premium quality headwear for all to wear, whilst showcasing the world throughout their designs. The 3D mesh trucker cap in Olive Green and Orange is one of our favourite pieces from their whole headwear range; you should really check them out!
As many of you are probably sure a day in smart shoes as nice as they look isn't the most comfortable you have ever felt you simply need something for those down days so not only you but your feet can relax final feel comfortable for a day. This section depends massively on your budget with there being high-end options such as the chunky Alexander McQueen at £360.00, but we found some shoes which we love just as much for less than a quarter of the price tag. The RS-O Winter Inj Toys Sneakersfrom Puma perfect for this both summer and winter with them going with almost everything, they're a must to step up your trainer game.
As it gets colder and colder we are all beginning to add more and more layering to our wardrobes but nothing is better for these winter months than some Sherpa. Warm and stylish you can't really ask for much more can you?! Where can you find the best though? FatFace's Sherpa fabric zip-up cozy fleece is just perfect, it even has cozy in the name. The brands mission was to create high quality clothing featuring unique materials and we can quite comfortably say that they have smashed it with this piece. Check it out!
Finding a moisturising product which you are able to use on a daily basis without turning your skin greasy can sometimes become a struggle and if you like so many of use commute you will understand how dirty you feel when you finally get home, however, after a shower, we believe that we found the perfect remedy. The Ultra Facial Cream by Kiehl's is perfect for softening and hydrating all skin types whilst being perfect for daily use and at the price of £24.50 why not buy it test it out!
Is there anybody else out there who finds it incredibly annoying waking up earlier simply to shave your face? Something quick, clean and easy is often hard to come across for shaving but we have found the perfect tool! The Philips Series 3000 Wet & Dry Electric Shaver is perfectly adaptable giving high-quality finishes for both a wet and dry shave.
V Necks are something often associated with boy bands from the 2000s and not a very fashionable piece, however, this winter we at clothes make the man love the jumper alternatives. What some would call 'Dad' style has been on the uprise for the last couple of years, with the start of it being chunky trainers and this takes you to another level. The Golf Dad!! Boohoo man offers different colour options as well as that perfect fit.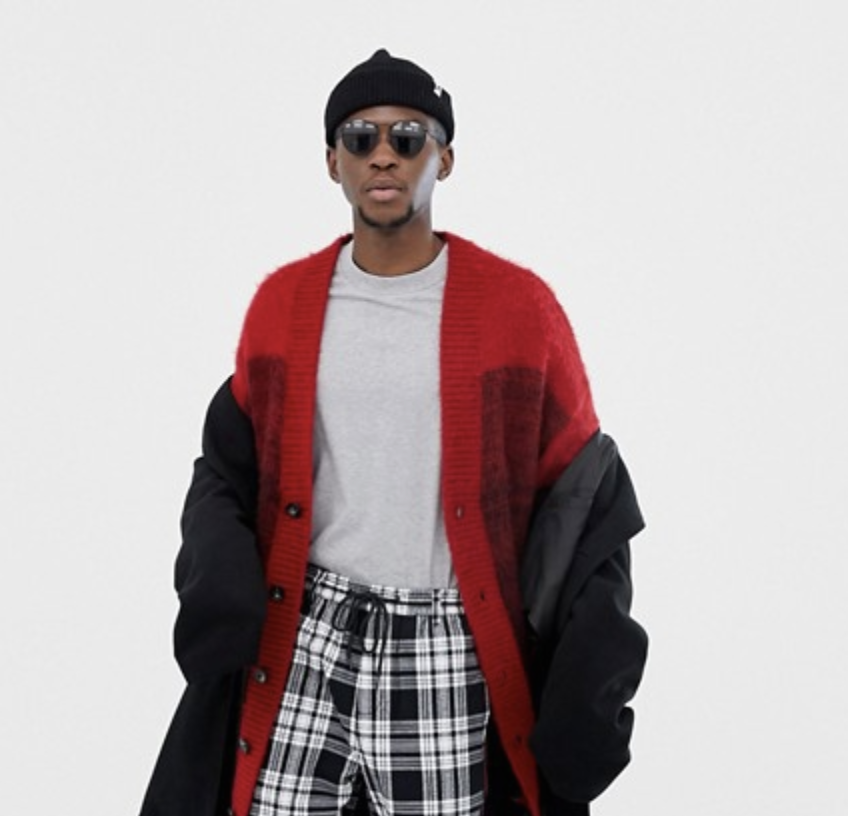 As many of you who shop on ASOS would have seen Collusion has been a brand massively on the uprise with it showcasing a range of unisex designs as well as both men's and women's silhouettes. The offer a very modern style with a classic streetwear influence on the items, however, what is a stand out factor of the brands clothing is the patterns and bright colours in which they use across all designs whilst still being at an affordable price. It's simply too hard to pick so we'll let you decide!
Other than smelling amazing yourself it is key that your house smells as good. Forget about Fabreze and go for that higher-end option with the Tom Ford Cigar and Vanilla candle. This will send a beautiful aroma around your home welcoming guests or whilst you are relaxing in a warm bath, whatever you fancy really! One of the perfect gifts for this Christmas if you ask us.
We all know that comfort in your own home is key and finding the perfect PJ's is easy but when it comes to luxury and comfort you simply can't go wrong with a pair of Ugg slippers. The slippers have a soft suede outer layer with a sheepskin lining to keep your little piggy's warm in these colder months, don't have cold feet. Treat yourself this winter!
Christmas is just around the corner so you want to snap up these items as fast as you can, don't let them sell out! Remember all you have to do is send this link to your partner for a little hint of anything from the list above, which is taking your fancy, then they have no excuse (ish). We will have many more Christmas posts coming out very soon so keep your eyes peeled.