WORDS BY RICHARD MEADOW
Men's streetwear has been a constant talking point for the last few years and the trend is only getting bigger. The idea behind streetwear is to offer the wearer a relaxed style whilst looking good, the hype around luxury streetwear brands like Supreme, Off White and Bape, make the style more desirable but also less affordable.
Other brands are offering everyday people more affordable alternatives to conform to the style that everyone wants, but what does the future hold for the style? Here's a look at some of the upcoming trends to try in streetwear.
Dolce & Gabbana SS18
Miss-matched Patterns
With patterns and designs on clothing, the common style is to match a printed top or trousers to a plain garment, this helps highlight the patterns worn for a defined style. In streetwear currently, fashion shows and luxury brands are flaunting heavy designed patterns on all garments worn, tops with clashing patterns with trousers and jackets. It's a bold style which is soon to become the norm in streetwear.
TOPMAN Design SS18
Regular Fit
Although skinny and tapered fit pants are a common occurrence in streetwear, the regular and wider fits are making their way in. To complement the relaxed style mentioned, the looser fitting jeans, joggers and trousers are all offered with the majored luxury retailers and another style spotted is that some of the trousers are ankle grazers. Designer socks are a popular bought garment and the slightly shorter trousers are helping to define this style.
Virgil Abloh, Brooklyn Beckham & A$AP Rocky
Tuck it in!
T-shirts and jumpers are being tucked into trousers with most luxury brands, it helps to define the trousers and belts. With streetwear, it can almost be seen as ironic, usually to tuck in a garment is to try to appeal as a smart style, but it's certainly not the case in the men's streetwear scene. with jumpers especially, it's an easily spotted look that looks slightly off balance, as it's not the common practice with jumpers.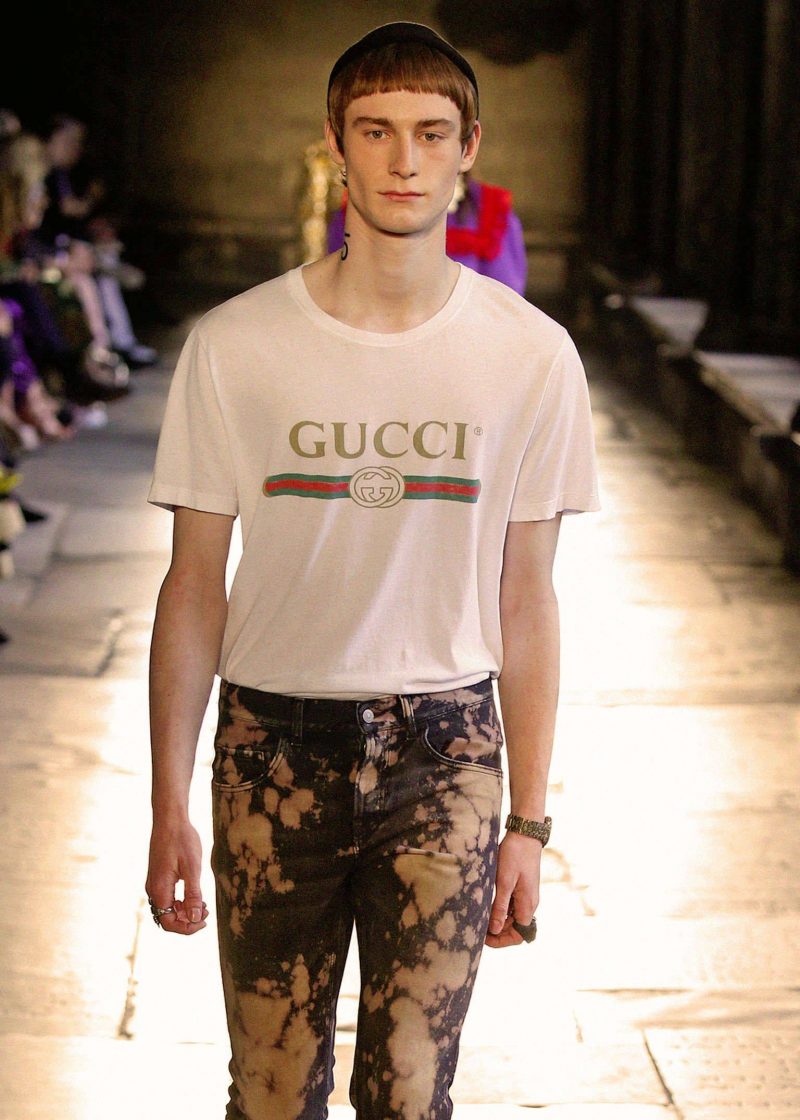 Gucci SS18
Oversized Branding
Luxury Streetwear is staying strong with the heavy branding, letting your peers know what you're wearing and the statement you're making is part of the style. It's a part of streetwear that has never really changed, branding is an important part of streetwear to most and it's likely that people won't spend as much on the brands if their garments become subtler.
Twitter: meadow_richard