We haven't had a textual conversation for a while, that wasn't meant to sound stalker-ish in any way, shape or form, I promise, so here you go, the start of a new season and a return of a favourite.
Today's textual conversation is first in a series of conversations where we highlight some of the individuals who play a key role in shaping the way many of us dress and how our wardrobe will fare for the coming seasons. Over the next couple month we will be profiling a number of individuals in key positions in leading retailers. First up is Julian Fuller, (see above) Head of Menswear Design at Debenhams. Julian's first job after graduating from the first Menswear Degree in Europe was in Italy with Denim Supremo, Diesel. He then worked as a supplier to Retail giant, Next, and spent 6 years designing and developing Menswear (eventually specialising in Mens Denim) out of Turkey, Sri Lanka, Hong Kong and Shanghai, which lead him to his currently Employer, Debenhams who lured him to head up the development of Mens Denim for them. More recently he was promoted to Head of all Menswear, including their hugely successful Designers at Debenhams, which includes ranges from such Fashion heavyweights as Jasper Conran, Patrick Grant and John Rocha. So let's see what Julian's got to say.
Best piece of advise you've ever been given and by whom?
"Make your mistakes with someone else's money" – Tim Wallinger. It was 1999, not long after graduating and I trying to decide whether I should set up my own brand or take a job offer… The rest as they say is history.
What track would always get you on the dance floor ?
'I get around' by 2Pac… I'm not particularly a 2Pac fan but this tune has the best beat.

What's your Favourite movie ever ?
I wish it was 'Scarface' by Brian de Palma, but it's actually a cheesy 80's Steve Martin RomCom called 'All of me' (wow this interview is better than therapy).
If you could collaborate with one brand who would it be ?
Aitor Throup – In my opinion he's a rare breed. A designers designer akin to Massimo Osti, and a true creative that's not contrained by one medium or area of design.
If you could live anywhere where would it be ?
London… I've been lucky enough to have visited most countries in the world, but nothing feels like home.
Favourite hotel in the world ?
I love Paris, and the 'Hotel Providence' near Le Marais is a joy. You even have your own in room cocktail bar!!
If you could give your teenage self advice, what would it be ?
Don't sell all your star wars toys at the boot sale
How did you get into the industry, what was your big break ?
It was with a garment supplier called Nashville owned by Mark & Neil Lindsay… I started on January 2nd 2000, and the next day I was on a Plane to Istanbul Turkey. It was supposed to be a 2 day work trip, but I ended up staying 10 days… The whole experience was so intense but I leaned a lot.
How do spent your free time ?
Outside of the norm like trying new resturants (I love food), bars and overdosing on Netflix I'm currently teaching my 9 year old son how to play golf… I've also got a residency DJing at the Dragon Bar in Shoreditch.
What music are you listening to at the moment ?
I Mostly listen to 90's Hip hop, and 70's rare groove (I just went to Chris Sullivan's Wag night at the Groucho Club) but I'm enjoying Childish Gambino's new album, and the new Anderson .Paak collaboration (Nx Worries).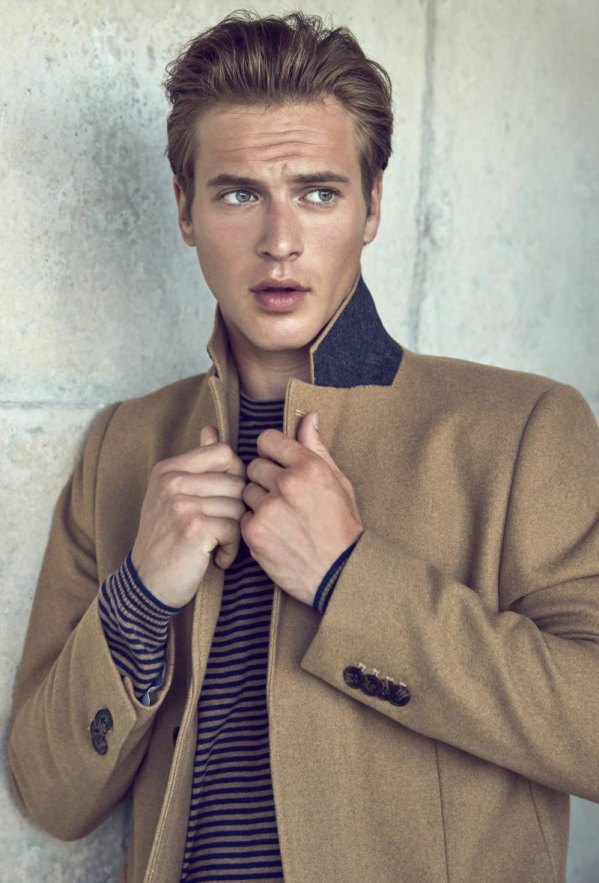 Who would do you ideal diner guests ?
I can't decide between Muhammad Ali or Steve Jobs? Or Donald trump? You never know, maybe he's just misunderstood (Joke)
What piece of clothing would you relegate to Room 101 ?
I don't think you can relegate any clothing, everything has the right to it's moment in time, and you need something crazy for the mainstream media to focus on… You'd also take away the fun of laughing at those pieces, and the confusion of when they're back on trend.
What do you have to do after this conversation ?
I've got a about S/S18 socks meeting.
What would you like to be doing after this conversation ?
Drinking in an Old Fashioned.
What piece of clothing best describes you ?
Straight jacket (HaHa)… I'm not sure, but if you asked someone else they'd Probably say a waistcoat… as I wear one almost every day.