The Bathroom should be a place of tranquil relaxation, with a genuine sense of zen. A room in the house that guarantees an oasis of calm, the room in your abode that is minimal when everything else around you is going crazy. Simple, understated, relaxing design and now I can give you the finishing touch to complete this utopia.
Now if you're the kinda guy who cares about those finer details, then let me introduce you to the new electric toothbrush from Bruzzoni's Wall Street collection is just what you need to bring a real touch of affordable luxury to your daily grooming regime. Combining minimalist Italian design with cutting edge Swedish technology, the Bruzzoni electric toothbrush has a luxurious soft leather-like feel and is comfortable to use, with a high speed oscillating brush head that keeps your teeth smooth and clean, and your mouth super fresh.
Although Bruzzoni has only been out on the market since December 2016, the company has already received international attention with distributors in China, Hong Kong, South Korea, the Middle East, Australia, Austria and Switzerland. Bruzzoni was founded by serial entrepreneur Krister Mossberg, who's other ventures include Campadre.com (one of Scandinavia's biggest shopping communities), Gajdo.com (search engine in the SME segment), and co-founder of Hitta.se (one of Scandinavia's Yellow Pages search engines).
The toothbrush comes in two stylish colour options – deep matt black trimmed with rose gold metal, or sleek white trimmed with silver metal. With every detail of this product thought through and every requirement catered for you also get a neat, matching, metallic induction charger base and the whole unit makes a great finishing touch for any contemporary bathroom.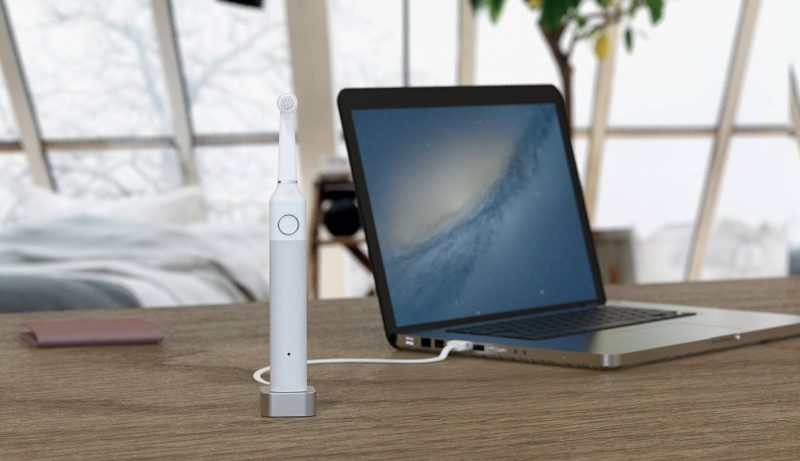 The clever induction charger gives you 40 minutes' cleaning time when the toothbrush is fully charged, which you can do from any USB port or your bathroom shaver socket. Plus, its got an easy to read battery indicator that gives you plenty of warning so you know exactly when you need to recharge. The toothbrush can also be safely packed away in its bespoke travel bag so you can take it with you wherever you go.