---
by Isaac Perry and Keanu Adorable
Last week was the 5th anniversary of London Fashion Week Men's and the Brands, Good, Bad and Stylish came out in full, always pushing boundaries with their artisanal pieces. We here at Clothes Make The Man had the pleasure of attending various shows and presentations, and we have chosen our top 5 collections from the Spring/Summer 18 shows.
KTZ
KTZ were ready to go to war with military wear and street style being combined for this urban collection. No Surprises, key colours used were black and Khaki, this remaining consistent throughout. With many of the clothing items being be ones in which you would be able to wear day to day casually, excluding pieces including chainmail which was seen included within multiple outfits, however, despite not being everyday wear the chainmail added a really interesting feature to the show, presumably influenced from armour.
Blood Brothers
The streetwear influence on this collection was very apparent, with many of the key colours seen being popular in today's street fashion times, red being a prime example. The garments that were paraded had a statement picture or piece of text on them, which grabbed your attention, the most eye-catching being the car on both the blue shirt and bomber. All garments shown in this collection are ready to wear and could be worn casually day to day.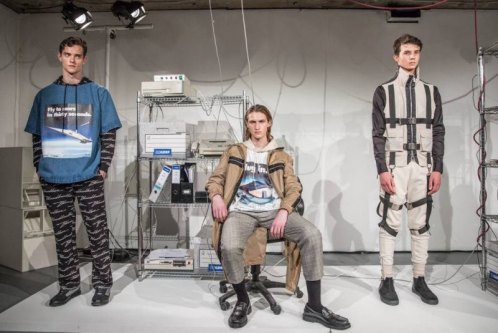 Oliver Spencer
WHEN it comes to the catwalks, one thing that we can strongly agree on is that diversity is always great to see, and this sentiment was strongly expressed at the Oliver Spencer show. Men of all races and ages walked the runway were present, showcasing contemporary fashion from one of the most wearable brands showing at LFWM.  the show 'Love Town' sought to pay homage to the "proud, tough and loving place" that is London. The clothes were sharp and sartorially aware, but still infused with a casual elegance perfect for summer. Warm pink and cool blue provided the palette of the collection, which are easy on the eyes.  At the end of the show, the models took one final walk, each wearing a t-shirt emblazoned with the words 'Love Town'. It was a poignant moment as they collected at the entrance to clap the designer making his bow, and solidifies the spirit of London, and concludes that we are stronger together.
Kent and Curwen
This is Kent & Curwen's second time showcasing at London Fashion Week Men's and this time the inspiration is teams. The live presentation consisted of models walking on stage to form a sporting team photograph. The English rose motif was seen throughout the garments highlight the designer's roots. '50s style Derby day suit had a modern twist as it was assembled with white trainers, an untucked striped shirt and an army, over-sized trench coat. Loose cream tank-tops with stripes and tailored shorts gave an old school boxing attire feel as did a frayed cream knitted jumper which had a touch of cricket. Calf-length socks and thick, hefty scarfs were present. The Kent and Curwen collection gave a very classic, British sportswear aura while still being very contemporary. All very wearable pieces for SS18
A-COLD-WALL*
There are few brands currently generating the same buzz as London's A-COLD-WALL*, and the brand's show at its home city proved why many people are so excited by it. The designer's latest assemblage blends utilitarian design cues with unconventional silhouettes. There were a variety of everyday staples such as jackets, hoodies and trousers receive a high-cut crop treatment. Head designer Samuel Ross ingeniously plays with traditional suiting and accessories. Standout pieces include elongated raincoats, down jackets, blazers with contrasted shoulder pads, patchwork trousers, and experimental bucket hats. Of course, we can't forget the diverse range of bespoke NikeLab Air Force 1 Low sprinkled throughout the collection.