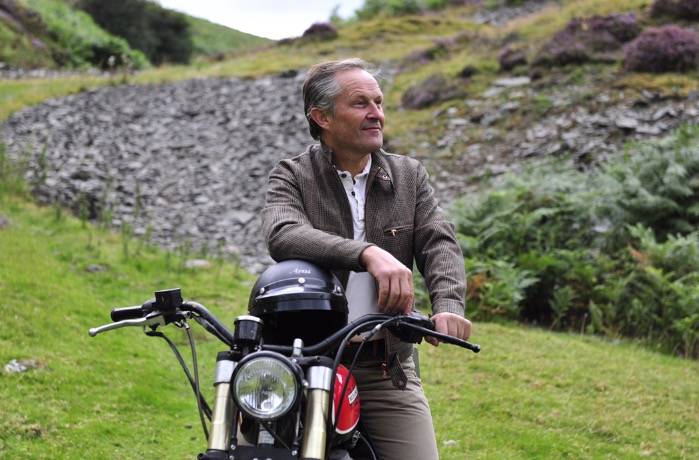 The Private White V.C. brand is a true heritage range based on the on the everyday wardrobe of Private Jack White, not to be mistaken with the White Stripes guitarist. The VC part of the moniker is after the Victoria Cross which was awarded to Jack at the tender age of 20 for outstanding bravery under intense enemy fire during World War I. The clothing line has a subtle nod to Jack's military legacy, with many items based on classic wartime pieces, updated with added functionality and detail for the modern man.
After returning from the killing fields of the Great War, he undertook an apprenticeship with a local outerwear factory, Cooper & Stollbrand, which is where to this very day his Great grandson, James Eden, produces the collection inspired by the clothing he wore in his daily life, items he customised to suit his everyday activities .
The backstory to this fascinating brand, was celebrated in the Channel 4 documentary, Made in England, which looked into the transition of the Copper & Stollbrand factory from a fossil of a bygone era to the journey James Eden and his business partner Nick Ashley, dragged the business into the 21st Century. Creative Director, Nick has a long and illustrious history in the fashion industry, having worked for Kenzo, Tod's of Italy, and Dunhill Menswear, amongst others. The son of Laura Ashley, the renowned fashion and interiors designer, Nick was immersed in design and creativity from an early age, so it was little wonder that he should follow in his mother's footsteps.
The collection is designed by Ashley who's designs are influenced by Private Jack White's wardrobe and classic military garments, as well as his passion for motorcycle and car racing. Nick's ability to immerse himself in everything he does is testament to the passion that goes into his creations. His long-standing love of history and the military make Private White V.C. an ideal outlet to unleash his inspiration.
All clothing is expertly constructed by hand in the Private White V.C. Factory in Manchester, where garments are designed and developed using only the finest regionally sourced fabrics, trims and materials.
Materials are sourced locally where possible with the majority of cloth being supplied from the mills in the surrounding area. These too have a wealth of history behind them.
You can spend an hour with anyone from history – who would it be?
Bob Marley, everything's gonna be alright
If you could keep one book – what would it be?
The colour wheel manual, harmony is everything
Which British subculture will have the greatest style legacy?
Punk, it was the last, before mobile phones killed subcultures
What are you most excited about at the moment?
The craft resurgence
Best piece of advice you've ever been given and by whom?
Always turn a disadvantage into a massive advantage: my dad
Favourite hotel in the world ?
Il Pellicano, Porto Ercole, Italy
If you could collaborate with one brand who would it be ?
A carmaker in Britain, we are all in the same industry
Do you have a Style Icon ?
Gary Cooper : working classy.
What piece of clothing should everyman have in his wardrobe ?
Every man should have a clean white shirt.
Tell us something no one else knows ?
Bob Marley's father was a Welshman
If you could only wear one brand for the rest of your life who would it be ?
Private White V.C. of course, because it makes me feel good about myself
If you could have invented anything what would it be ?
The Helicopter
Preview of Private White V.C. Autumn/Winter2017