You know us men are a selfless lot, we're all too busy thinking of what we're going to buy our loved one, that we all to often overlook what WE want for Christmas. We at Clothes Make the Man are all to aware of this problem and can sympathise with our good readers and so we thought we'd let you take a few moments break for a little US time, yeah think about what we might want sat under the Tress come Christmas Morn. So here's a selection to wet your appetite –
These lil lovelies caught our eye or should that be ear, they are Bang & Olufsen Play headphones from MRPORTER.COM, deliver exceptionally clear, authentic audio. The soft leather memory foam earpads and lightweight support ensure you'll be able to listen to your longest albums in comfort, while the lead can be plugged into either side and features an in-line remote control and microphone for flexible use on the move. Ohh Santa you better not forget.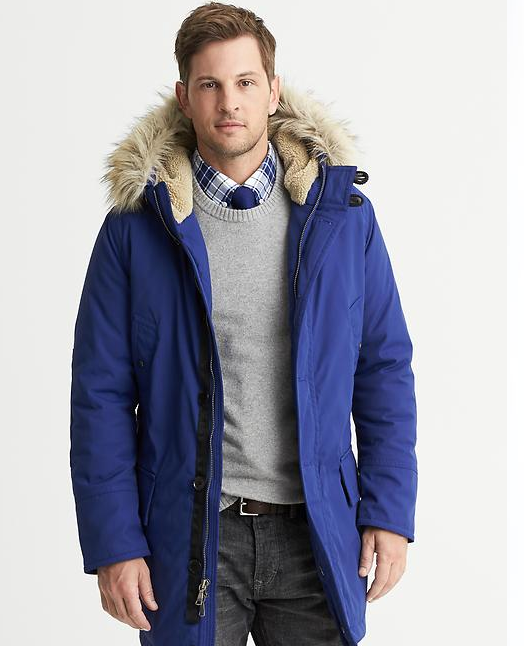 Ohhh the weather outside might well be frightful but inside this Parka jacket by Banana Republic you certainly will be feeling delightful. Totally versatile and completely practical this Parka will keep you good whatever the weather throws at you this Yule.
Simple put this jeans are blinking fantastic, by Albam and a classic in every shape of the word plus a real wardrobe essential, each pair is crafted from a custom woven 13oz Vintage Rope Dyed Indigo Japanese denim, in a new factory in the north of England. When you receive your jeans they are a beautiful deep blue colour, untouched by fades and washes so you can make them your own as you wear them. The denim now has a chain stitched hem that gives an original finish that echoes back to the ways of old.
This brilliantly traditional Gentleman's umbrella contrasts a navy canopy with a light brown wooden handle and a silver metallic engraved logo tab, by the equally brilliant Patrick Grant for Debenhams for his GREAT Hammond & Co range.
Celebrating its thirtieth birthday this very year, Swatch have created some incredibly iconic watches during this time including this great design classic, interestedly called, "Twice again". Most people at some point have had a swatch and now's the time to do it again.
Orson & Welles stock the best in original film posters from the 1950's to 1980's. Prices range from £100 for the 1954 re-release classic Port of Wickedness "She ruled, a queen over gold-mad love-hungry men…" to £5000 for the Star Wars non-Oscar version of the UK Quad Style C film poster – a key item for any serious Star Wars collector.
Hats, gloves, scarves combos are always a winner, but make sure you be specific in what your after or you can end up with novelty-tastic example. This set from Paul Smith will have you looking dapper no matter if your dressing down for a festive tipple or smartening up your act for an in-laws meet up.
Switch by Native Union is a truly GENIUS product, a Portable Bluetooth speaker, Professional conference call device and Mobile phone charger ! Its currently the way the Clothes-Make-the-Man office are listen to their music. Its wireless technology allows you to enjoy your music , movies and games. SWITCH is powered by three speakers, ensuring optimal sound quality whatever your music taste and take calls from over 30 feet away from your Bluetooth device, all the while looking pretty damn cool.