I don't think anyone could deny the AMAZING job Movember do and have been doing since their launch in 2004. Through their great work in encouraging men across the globe including countries such as Ireland, Canada, Czech Republic, Denmark, Spain, the United Kingdom, Israel, South Africa, Taiwan and the United States to grow all sorts of Facial hair variations. They've highlighted the incredibly serious issue of Men living with prostate or testicular cancer and raising awareness and understanding of the health risks men face. In doing so, in an innovative, fun and engaging manner, raising much needed funds for men's health programme investment.
This year, people are not just investing money in the project but equally important, their time. Brands from all sorts of differing spheres have produced creative and worthwhile concepts all in the name of Movember and brining attention to this BRILLIANT cause. So Clothes Make the Man thought we would inform our good readers of some of the innovative ways they can get involved and make a difference.
In support of Movember,  International Tire Company, Bridgestone is sending its dynamic duo, also known as the Bridgestone Bros, on an epic road trip in search of the biggest, bushiest and most brilliant moustaches in Europe. Their hair-raising journey will all be captured as a documentary to be shown on Bridgestone's www.beeneverywhere.eu website during Movember.
The Bridgestone Bros will travel in their vintage VW campervan – complete with giant moustache – from the Handlebar Club in London to the World Beard & Moustache Championships in Stuttgart, stopping off at moustache clubs in Antwerp, Strasbourg and Berlin along the way. Bridgestone is calling for men around the UK to get involved and join the Bridgestone Movember page to help raise money for this notable global men's health charity.
Now then, you'd have thought a company famous for their closer then close shaves, wouldn't be so keen on discouraging you to ditch the blade for the month, but as part of their ongoing support for Movember, thats exactly what Gillette are condoning (kinda). The Gillette Fusion ProGlide Styler, is Gillette's first 3-in-1 precision grooming tool, perfect for Mo Bros wanting to style their facial hair. Combining Braun engineering and Gillette Fusion ProGlide technology, it trims your Mo evenly, shaves closely and edges accurately with a Precision Edging Blade. Plus, Gillette is on a mission to turn sportsmen into gentlemen through the power of the MO!
Movember is all about bringing real men together to raise awareness for real issues and what better way to bring men together than through sporting spirit and through sporting a Mo? Gillette is encouraging menfolk to sign up to its team, Mo Gents United, for fundraising fixtures and shenanigans. And if that wasn't enough to tickle the top lip, there will also be a barbershop in central London where MO Bros and gents alike can come together to discuss facial hair, sport and a whole manner of manly things!
This year we see a new partnership with leading luxury watch specialist Maurice Lacroix supporting the Mo-vement with a campaign on a global scale. To Mark this exciting partnership Maurice Lacroix have created 11 Limited edition versions of the Pontos S watch, engraved with the 2013 Movember Moustache – one of which will be given as a prize to Movember's international Man of Movember 2013, the ultimate accolade for any Mo bro.
Each year one Man, chosen from the combined List of winners all over the world, is crowned international Man of Movember becoming the face of the campaign. Each national Man of Movember winner is voted for at that particular country's main gala parté, held at the end of november, by the world-renowned handlebar Moustache club.
Next up we have the fine English fragrance house Penhaligon, founded in 1870 by William Penhaligon.  Their passion is to continue his incredible legacy of creative and innovative perfumery, challenging the traditions of the art and seeking new ways to interpret this art form. Their scents are still made in England using the finest rare ingredients. Penhaligon's holds two long-standing Royal Warrants; from HRH The Duke of Edinburgh (granted 1956) and from HRH The Prince of Wales (granted 1988). So whether you are looking to add shape or body to your Mo, a tin of wax is the must-have accessory for any respectable Mo Bro wanting to keep it neat this Movember. And with Penhaligon's moustache wax, created exclusively for Movember! Available online or in Penhaligon's stores this lightly scented wax will keep your Mo in fine fettle. And, as the wax is lightly scented with Sartorial(Sartorial is a contemporary interpretation of a classic Fougère; the traditional notes of oakmoss, tonka bean and lavender have been exquisitely stitched together with woods, ozonic and metallic effects, leather, violet leaf, honey and spices to create the perfect illusion of a tailor's workroom, didn't you know ?), it provides the added bonus of keeping your Mo smelling as good as it looks.
If that wasn't giving you enough ways to do your bit, Links of London are thrilled to extend their collaboration and team up with Movember for a third year, to create a range of limited edition accessories for Mo Bros and Sistas to wear as a talisman of support and provide a memento of their Mo Growing journey.  The ever popular cufflinks and charms return again this year to complete the collection, each featuring a sterling silver moustache in honour of the men of Movember and raising funds for Men's Health issues. For 2012 the collection expanded to include a black leather cord and silver Moustache bracelet to extend the collection and made it available exclusively on www.linksoflondon.com and in a selection of standalone stores. 2013 sees this iconic item reworked and range of Mo coloured cord bracelets in black, brown, grey, blonde and ginger and finished with our sterling silver Mo motif!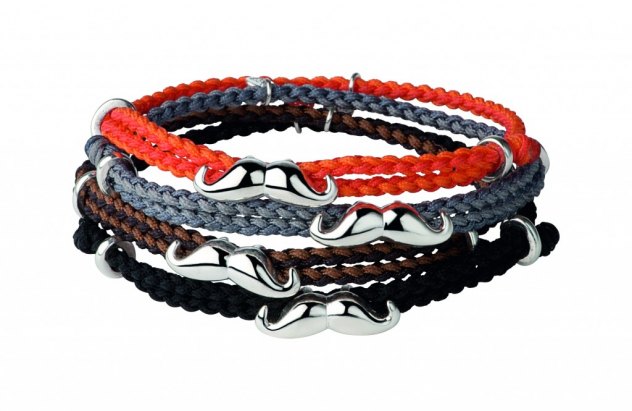 TOMS is known as the One for One brand, in that donates a pair of shoes to a child in need for every pair they sell. But once again as part of their ongoing partnership between these two likeminded brands, have teamed up to produced a limited edition collection of footwear. This year we see the signature moustache appear embossed onto grey Suede Classics for ladies and Gents and the Paseo's. So its a double whammy of do something good !
Lastly, but by no means least, we have the Movember App. It's not meant to replace growing a real moustache. Instead it is another angle for those of you who want to get involved and raise awareness for the cause but maybe can't physically grow a tache, or want a quick way to send a picture on Facebook that will make people think "What is this Movember ting all about?". It uses facial recognition to quickly and easily add a moustache to anyone's face. You can also place moustaches, beards, glasses and other items manually before sharing the photo through your favourite social media channel, or email, or just save to your device.