Words by Charlie Britton
As the Summer slowly drifts into yesterdays past and we look towards the Autumn Winter season, it's time we start to think about outerwear. As this time of the year can be a tricky one, here at Clothes Make The Man we've picked out 6 of the best transitional jackets to get you through this awfully unpredictable weather.
One thing we can all agree on is that this time of year is humid, wet and rather uncomfortable. Trying to pick out the right outerwear piece can be quite the challenge, with overcoats and overshirts battling out for the win. Rest assured, we've chosen out favourite lightweight pieces that'll keep you cosy and stylish, rain or shine.
The Burberry Sandringham
A British icon and fashion essential, the Burberry trench coat in the honey colourway is the perfect transitional outerwear piece that'll never go out of date. Heritage, style and flare all come to mind when thinking about the famous trench coat and this mid-length style is the perfect option for the Summer Autumn showdown. Sandringham Trench Coat
Cos Twill Shirt Jacket
One of the strongest highstreet brands in our opinion is Cos and this year, they've once again proven why. This Twill Shirt Jacket in navy is a perfect transitional piece due to its lightweight construction and stylish appeal. Perfect for layering over sweatshirts and easy to throw over your shoulder, it's perfect for both humid and cooler temperatures and will carry you through to the Winter season. Cos Twill Shirt Jacket 
Hammond & Co by Patrick Grant Harrington
Fashion Designer and Director of Norton & Sons of Saville Row, Patrick Grant, has made his irresistible design style available on the high street with his Hammond & Co collection at Debenhams. This Harrington jacket is another perfect transitional season piece, constructed using a rich cotton blend. Worn over a shirt for work or a tee on the weekends, this is a great choice for Britains turbulent weather and can be carried through to Winter as a layering piece. Hammond & Co Harrington Jacket 
Engineered Garments Overshirt
American-made is the game, Engineered Garments is the name. A perfect outwearwear piece that'll fall on trend every Autumn, this Military style Overshirt is great for the coming colder months as it can be worn over a plain tee or used as a layering piece. Thick cotton-twill and utilitarian details make this piece a must have as it really will work with almost every colour and style. What's more, the beautiful military green colourway will always be on-trend and works effortlessly with with Autumnal shades. Engineered Garments Overshirt
Oliver Spencer Artist Jacket
This is a piece we spotted on the catwalk at London Fashion Week Mens and instantly fell in love with. Oliver Spencer never fails to disappoint and this indigo Artist Jacket certainly speaks for itself. Made of 100% cotton, this lightweight garment can be incorporated into anyones style and once again, will work well into the colder months as a layering piece. Oliver Spencer Artist Jacket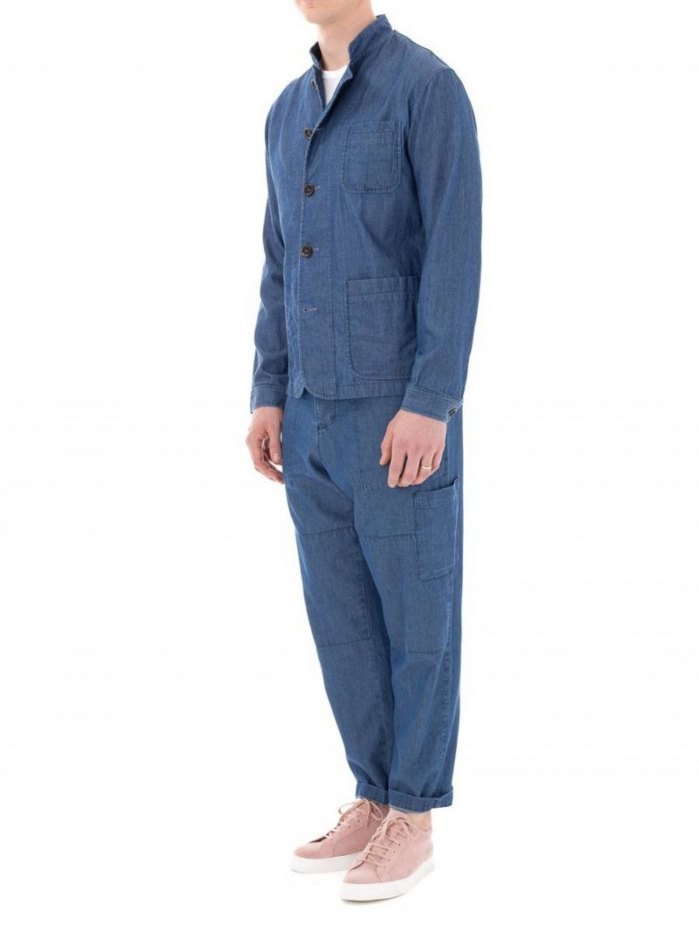 Topman Workwear Jacket
Topman has managed to secure a place on this list with a perfect affordable option for the transitional season. This Denim Workwear Jacket is a beautiful piece with lots of character and will work perfectly over the next few months due to its lightweight construction. Don't let this piece put you off either, double denim is still on-trend and isn't showing signs of giving in anytime soon. Topman Workwear Jacket
Come rain or shine, these 6 outerwear pieces will do you justice and keep you comfortable during this awkward British transitional weather season. If overshirts are ticking the right boxes and you want to see more, you can always check out our piece on 6 of the best overshirts here for some more inspiration.