Words by Zoe-Louise Thomlinson
(https://www.pexels.com/photo/man-looking-at-a-vintage-car-3056057/)
There have been many men's style icons throughout history. Some are very expected choices, for example, Yves Saint-Laurent, Ryan Reynolds, or Frank Ocean. However, there have been certain men who have left their mark on menswear that comes from a very unconventional place. These men did not work in fashion or were uber-stylish pop stars, and often initially were not considered stylish at all. However, over time, they became massively influential and left their mark on the menswear game forever. Here are some of the best vintage male icons in history.
Gianni Agnelli
This industrialist and politician set himself apart from other menswear icons- politicians are not often considered fashion influencers! However, this international playboy wrote both policy and fashion trends. He promoted a quiet elegance that would influence male celebrities and the everyday man. He was known for wearing casual shoes with his suits, such as slippers or sneakers. He was also a pioneer of mix-and-match styling, mixing his business attire with his country attire, which was unheard of at the time. His unique style would influence men's fashion trends for decades and still persist after his death in 2003.
Muhammad Ali
Muhammad Ali is mainly known for his glittering boxing career and activism throughout the 1960s and 70s. However, his influence on style is sometimes overlooked. Long before boxers were the height of fashion, he made it his mission to always look stylish. His signature style was the well-cut suit- to him, good tailoring was key. He was a pioneer of the suit and sunglasses look. His suits often had many subtle designs, such as pinstripes. He was also a big fan of stylish 70s knitwear.
David Bailey
David Bailey was one of the most prolific fashion photographers of the 60s. He is most remembered for this. However, his styles behind the camera were also influential on men's fashion. His fashion photography was not the only influential thing about him. He was so stylish in his personal life that the models were often enamoured with him. The work that allied him so close with Vogue was a massive influence on his own beatnik style.
Jack Kerouac
This member of the beat generation did as much for men's style as he did for the literary world. Some people say that his most famous piece 'On The Road' sold a 'trillion Levi's.' He has been called the father of 'blue-collar cool.' The parts of his style that were influenced by the beat generation were stripes and a dark collar palette. However, he mixed his style with rugged, bohemian looks that were often worn by working-class men, such as jeans. His style epitomised a certain outlook of the young generation at the time, of the 'wandering traveller.' At the time it was considered anti-fashion- however, we might consider it the precursor to street style. His unique style influenced a whole generation of American teens and young people. Not what you'd expect from a writer!
George Best
Best was one of the most iconic and interesting football players in the world during the 60s. However, his famously playboy lifestyle awarded him another title- the king of fashion. He was even considered the 'fifth Beatle.' It is not well known that he opened a Boutique in his hometown of Manchester, which did very well. He said that the collection at the boutique was aimed at the 'extrovert male' with lots of bright colours, tweed jackets, and purple trousers. When he wasn't on the pitch, he was influencing fashion.
Kurt Cobain
When grunge first exploded onto the music scene in the early 90s, grunge style experienced attack for being sloppy. However, it quickly became a counter-culture with thousands of 90s teens becoming early adopters of the grunge style. Kurt Cobain was not only the king of grunge in terms of Nirvana's sound, but also in terms of grunge fashion. His iconic Christian Roth sunglasses, oversized jumpers and heavily distressed wide-leg jeans were copied by lots of young people on the scene. He also popularised painted nails on men, which was controversial at the time. He truly made his mark on the fashion scene.
Franz Beckenbauer
Otherwise known as the Kaiser, the captain of West Germany is probably more well-known for his football than his fashion. He is most well-known for his performance in the world cup tournaments in the 60s. However, he was much more influential on men's style than people think. In the '70s, he did a collaboration with Adidas to create a stylish full tracksuit. Since this, men's tracksuits became a staple of men's fashion. He inspired a whole style of garment that dominated men's fashion for decades to come.
Marlene Dietrich
What is a woman doing on this list? Well, she was a true menswear style icon. Breaking societal taboos during the 1930s, the German-born Hollywood star was well known for her three-piece suits. She wore these in films and in her personal life. Her iconic suits shocked the papers and general society at the time. Her style started a fashion trend which brought top hats back into fashion for both men and women! A truly divisive figure that defied the Nazis during the Second World War, she was incredibly influential in her films, fashion, and personal life.
Bjorn Borg
Bjorn Borg was the first tennis player to attract attention because of his style. The press dubbed him a 'rockstar in tennis clothes.'  His long hair and headbands triggered many people to copy his relaxed sporty style. His stylish sportswear, shell necklaces, and disco suits off the court attracted the attention of thousands of fans. The Swedish tennis player was almost as stylistically influential on the world as ABBA.
David Bowie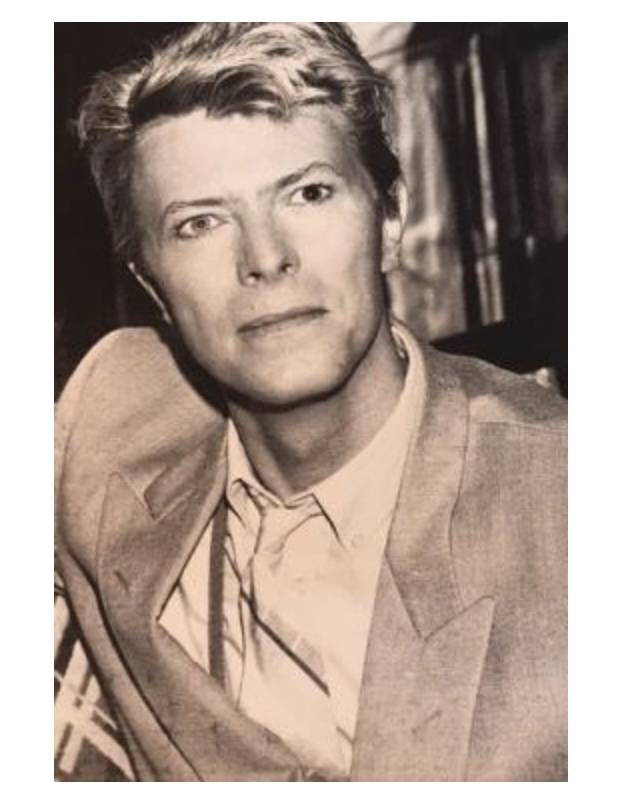 David Bowie is one of the most famous men's style icons of all time. He was infamous for playing with the rules of fashion, incorporating both masculine and feminine pieces into his wardrobe. Loving glitter and sparkle, he also wore a lot of military wear. He loved combining epaulettes, trench coats and accessories such as an RAF watch strap with feminine elements like satin and sequins. His play with gendered clothing makes him one of the most influential and iconic vintage style icons of all time.