Yes it's the 1st of December again and yes it is the most wonderful time of the year. However, it all feel a little different this year in 2020, but we're here to make sure it's special and to help you along the way in discovering everything you could possible need to have a truly memorable Christmas.
The first door of your Advent Calendar can be opened !!! But Advent Calendars have come a long way since we were young, no longer when you prize open the little window are you met with some sorry looking sprig of Holly, or a pathetic, sad Snowman, ohhh no ! To mark the first post of our festive Countdown we've earmarked day one of Advent with a collection of the very best Advent Calendars around at the moment,  its festive cheer or maybe even cheers all the way, but we suggest you act super FAST, as they are selling quicker than you could say HO HO HO !
So, first up we give a socially-distanced gift with HYPE.'s twelve hand-picked HYPE. face masks, that's your everyday face mask rotation covered.
Each mask features an earloop design in an anti-bac sweat fabric base for the ultimate comfort and breathable space when wearing.
Following its huge success last year, Acqua di Parma are launching their second lavish Advent Calendar as part of their 2020 Christmas collection. Inviting you to fully immerse yourself into the Maison in all its facets; from Colonia to Blu Mediterraneo to Home Collection, from Barbiere to the new Signatures of the Sun & Le Nobili, a surprise awaits you behind each door as you countdown to Christmas Day.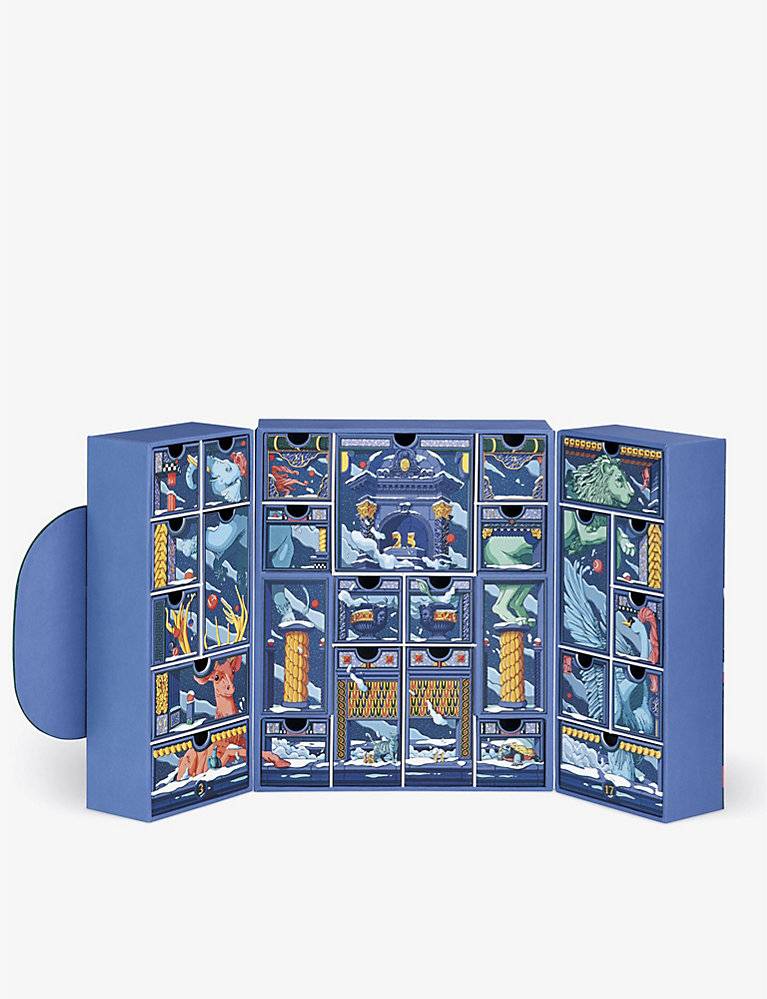 The Diptyque advent calendar hosts a cornacopia of delights begins each window consisting of;
Moonlit Fir candle, metal Christmas decorations.
11 scented candles: Tubéreuse, Figuier, Noisetier, Ambre, Mimosa, Musc, Feu de bois, Lys, Baies, Roses and Narguilé
Eau de Toilette: Do Son, Eau des Sens, Philosykos and Tam Dao
Eau de Parfum: Eau Capitale, Eau de Minthé and Fleur de Peau
L'Ombre dans l'Eau Shower Oil 1
Do Son Solid Perfume
Rich Body Cream and a partridge in a pear tree, to complete the collection an Exfoliating Body Scrub !!!!
Now behold the Fortnum's Feasting Advent Calendar. There are few better ways to count down to Christmas than with a special Fortnum's surprise every morning. Filled with 25 delicious treats – from tea, coffee and confectionery to biscuits, preserves, condiments and tipples – the festive build-up has never been so enticing.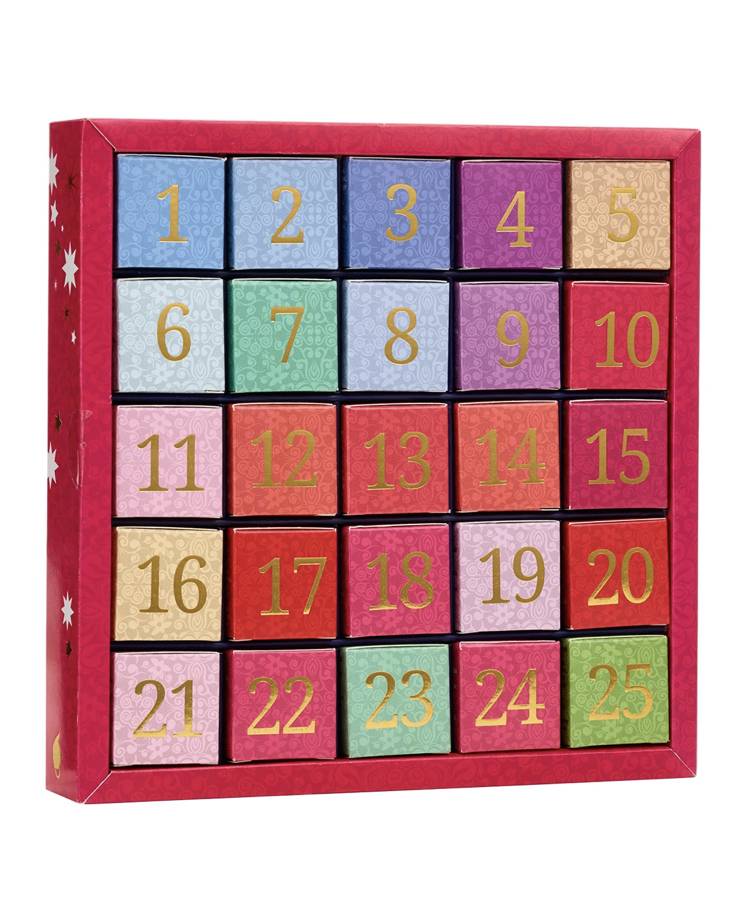 Enjoy an organic and fabulously festive cup of tea every day in the countdown to Christmas with this Numerical Advent Calendar. Using rooibos, black tea, peppermint and more, English Tea Shop have created innovative flavours such as Christmas Cake, Candy Cane and Gingerbread Man, not to mention a White Winter tea for snowy days and Lapsang Blossom that tastes like Santa has arrived down the smoky chimney with a bunch of flowers. Behind each door you'll discover a tea bag for the new day, even including one for the big day itself. It's the perfect gift for any tea lover.
English Tea Shop want the very best for everyone in their supply chain, from pickers to packers, and from their blenders in Sri Lanka to you the drinkers in the UK. That's why everything they do is organic and sustainable using no chemical fertilisers or pesticides, and they also pay a premium on top of the Fairtrade price. Their diverse range – which includes everything from world classics to fruity wellness tisanes – means that there's a cuppa for everyone. So, this is feelgood tea in every sense.
The indulgent Grand Advent Calendar from Hotel Chocolat includes elegant cocoa-infused tipples, crackers to decorate your tree, a chocolate wreath, edible snowballs, and more exquisite delights behind each window. Add a little luxury to your Christmas countdown, or treat someone special if it's their favourite time of year.
A Mrs Mc favourite here and something that may very well be in her Stocking come Christmas Morn is the 24 Days of Christmas Advent Calendar from Bareminerals, featuring a selection of iconic formulas for eyes, complexion and lips. Make a beauty lover's dream come true this festive season with this gorgeous Christmas count down. It Contains:
1 x Skinlongevity Serum Deluxe Sample working to refresh the skin and leave your complexion looking softer, smoother and more radiant, this anti-ageing serum is a must in any beauty collection
Skinlongevity Eye Cream – this gel-like formula helps to create the look of a more-youthful under-eye area and is infused with Long Life Herb
Loose Highlighter in Pure Radiance (shimmery nude) – formulated to add a radiant sheen to your skin
PoreLess Cleanser – a creamy clay cleanser designed to deeply clean the skin while helping to rid the complexion of excess oil
Mini Claymates in Be Bright – blended with pomegranate extract and papaya enzymes, this face mask works to gently exfoliate the skin to reveal a fresher-looking complexion
Mini Claymates in Be Firm – blended with watermelon and kale seed extract, this mask is designed to deliver moisture to the skin for a plumper-looking appearance
Mini Prime Time Primer – a silky primer perfect for all skin tones and ages, which helps to combat dry skin, the look of fine lines, excess oil, uneven texture, and enlarged pores so your foundation can be applied onto a smooth canvas
Mineral Veil helps to minimise the appearance of pores and absorb oil while giving your skin a soft, airbrushed-looking finish
Loose Blush in Golden Gate (warm apricot) – formulated to impart a soft, natural-looking flush of colour
Mini Bounce & Blur Blush in Pink Sky (shimmery pink) – a fingertip-friendly powder blush
Loose Bronzer in Faux Tan – helps to give your skin the look of a rich, golden tan
Loose Eyeshadow in Celestine (light pewter) – a light-as-air pigment that works to give your eyelids a wash of seamless, blended colour
Loose Eyeshadow in Queen Phyllis (light buttercup) – a light-as-air pigment that works to give your eyelids a wash of seamless, blended colour
Bounce & Blur Single Eyeshadow in Harvest Moon (metallic burnt amber) – a crease-resistant and blendable cream eyeshadow  
Eyelid Primer – a lightweight primer designed to make your eyeshadow pop and last longer on the skin
Strength & Length Mascara Sample- infused with red clover flower and peptides, working to help strengthen lashes and minimise lash fallout
Lashtopia Mega Volume Mineral-Based Mascara – a lightweight whipped, mousse-like formula for all-day smudge-, clump- and flake-resistant wear
Mini Gen Nude Matte Liquid Lipcolor in Swag (blushing mauve) – infused with moisturising ingredients that glide on like a cream before setting to a natural-looking, silky-matte finish
Mini Gen Nude Matte Liquid Lipcolor in Bo$$ (pink beige) – infused with moisturising ingredients that glide on like a cream before setting to a natural-looking, silky-matte finish
Mini Gen Nude Buttercream Lipgloss in Forbidden (light nude pink) – a creamy formula that works to hydrate and condition your lips
Mini Gen Nude Patent Lip Lacquer in Pout (neutral rosy mauve) – a full-coverage lip colour with a high-shine finish
Mini Barepro Longwear Lipstick in Hibiscus (vivid magenta pink) – a full-coverage lipstick that's fade- and feather-resistant, with a weightless gel formula that glides effortlessly across lips and offers a creamy finish
Mini Mineralist Lipstick in Courage (classic red) – a two-in-one lip colour and treatment made with triple-milled pigments and olive oil extract
Mini Mineralist Lipstick in Honesty (mauve pink) – a two-in-one lip colour and treatment made with triple-milled pigments and olive oil extract
More for the post Advent is ManKind 12 days of Christmas, new for 2020! With a selection of 12 of the most premium male-care products waiting for you behind every door.
Indulge yourself in the ultimate advent calendar for men…Featuring a wide range of hero brands such as AVANT, ESPA and Aveda.
This premium 12-day countdown to Christmas is worth over £380 but retails for £100 and is filled with the markets must-have products.
Next up is for anyone who really loves clothes – and loves socks in particular – this is the ultimate Christmas present! The SOCKSHOP 25 Pair Christmas Advent Calendar is the giant sock gift set that keeps on giving throughout the holiday. This huge gift box is packed with 25 all-different, all-new pairs from our equally giant range of socks, and from right across our own quality sock brands. Untie the satin bow, open the big doors to reveal 25 more smaller doors, and behind every one, a fresh, fabulous new pair of regular length socks for every day from the first of December right through to Christmas Day itself!
The SockShop 25 Pair Christmas Advent Calendar is available for both men and ladies. Both calendar boxes are filled with a curated collection of either our men's or women's socks, with both sets containing a different, very varied mix of quality bamboo socks. You'll get plain and patterned styles, spotted socks and striped socks, Christmas-themed novelty socks and socks in a whole rainbow of colours
Then it's the BrainBox Christmas, it's an advent calendar with a difference: it is a calendar, a decoration and a game all in one!
Starting on the first of December, children can play one card each day, using the pegs provided to hang the festive cards on a decorative piece of string.
Made from a minimum of 70% recycled material, the BrainBox range is fabulous fun. A fun and easy way to learn about Christmas, it'll help everyone on Santa's nice list improve their reading, observation, memory and recall abilities.
Finally, with a mix of original and flavoured gins make up this great value calendar that can be delivered along with an Ocado shop. 12 Gins of Christmas is also a great number if you don't want to end up with a massive headache come the new year. What's inside (spoiler alert): J.J Whitley London Dry Gin
J.J Whitley Violet Gin
J.J Whitley Nettle Gin
J.J Whitley Elderflower
Whitley Neill Original Gin
Whitley Neill Raspberry Gin
Whitley Neill Rhubarb & Ginger Gin Whitley Neill Quince Gin
Whitley Neill Blood Orange Gin
Liverpool Gin Original
Liverpool Gin Valencian Orange
Liverpool Gin Rose Petal