Words by Charlie Britton
Let's forget the marketing with this one gents. A good lip balm should hydrate, nourish, soften and prevent lips from chapping. Aside from a enjoyable flavour, theres nothing else a lip balm really needs. We are aware that it can be rather confusing at times to know which one to choose, but the good news is here at Clothes Make The Man, we do know which 6 lip balms work wonders when it comes to getting lippy. Put down that old chap stick fellas.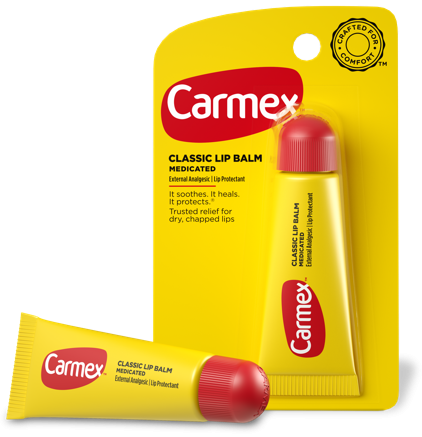 When it comes to lip care, Carmex may very well be the 'king of the castle' as it strives to produce the best and most effective lip balms on the market. Medicated balm in a tube is the simplest way to describe Carmex, as this fuss-free lip balm does exactly as it says on the tin. Featuring an analgesic ingredient which helps relieve pain, this cocoa butter and beeswax balm will soothe lips and keep them feeling fresh.
The newest product to come out of London based grooming brand Scaramouche + Fandango is an impressive shea butter and honey flavour lip balm. Encased in a masculine monochrome tube, this lip balm features a shea butter, soy bean oil and cocoa butter fill that promises to hydrate, nourish and prevent chapping. It happens to do exactly that and what's more, it uses a honey flavour rather than the real deal, so it's suitable for vegans too!
If you're looking for an exciting little lip balm, then the 'Hydro Salve' balm from Baxter of California might just be the perfect pick of the bunch. Mojito-flavoured and enriched with vitamins, this perfectly sweet lip balm will leave lips in top condition whilst delivering a subtle and minty tingle. We wouldn't necessarily say this tastes like a mojito, but the mint and lime combination is a nice touch, if only it was a little stronger!
Next up in out top 6 is this spicy grapefruit and ginger lip balm from Jack Black. Featuring sun protection with an SPF of 25, this lip balm is enriched with antioxidants and skin conditioners to soften and soothe dry and chapped lips. Jack Black offers quite the selection of flavours but the favourite of ours has to be this citrus and ginger flavoured balm as it tastes really great and brings something a little different to the market. The fact that is features an SPF protection is an added bonus, so this a great option if your off on your summer holidays soon.
For the style conscious man, we've discovered this beautifully designed lip balm by Japanese fragrance brand retaW (water backwards). This collaborative balm with imprint, Fragment Design, aims to keep lips hydrated and fresh with Candelilla wax, rosemary and peppermint oil. Our favourite thing about this lip balm is the design, as it doesn't look anything like a lip balm and more a work of art, although it tastes and smells great.
Last up on our list is Kiehls lip balm #1. Mint flavoured, enriched with vitamin A and E, featuring sweet almond oil, aloe vera and lanolin, this balm is a great all rounder you're certain to find on the high street. You can also choose other flavours such as pear, cranberry and even mango, so theres a flavour for any chapped-lip favour.