One of the many things Christmas is known for is the Food and the many different culinary delights associated with the Festive Season. Not just Turkey and Stuffing, but Nut Roast and Eggnog Traditional Triffle, mince pies and Christmas Pudding. Let's face it Food is the thing that brings many of the people together at this time of year.
Buying something food related can take a lot of the stress out of gift giving and so we've selected some of the best inspiring ideas that would whet the text appetite of Foodies everywhere.
And our short film from House of Fraser today is a must see for any DIY, crafty, handy enthusiast.
What a way to kick off today's post with this futuristic copper-plated Tom Dixon cocktail shaker features a large belly and tapered ends which allows for a firmer grip and more balanced shaking. It offers an attractive functionality bringing cocktail culture and drinks traditions into a contemporary universe, perfect for a home bar or kitchen.
What Kitchen could possible complete without this King of all appliances KitchenAid`s premium die-cast metal construction meets Nespresso coffee quality. Sturdy, stable and easy to clean, what more does any coffee lover want ?
Whether it's on a brisk walk come Christmas Day, at the Football on Boxing Day or if your crazy enough taking a dip on New a Year's Day. This Flask from Lyle & Scott will come in handy on numerous occasion over the coming years.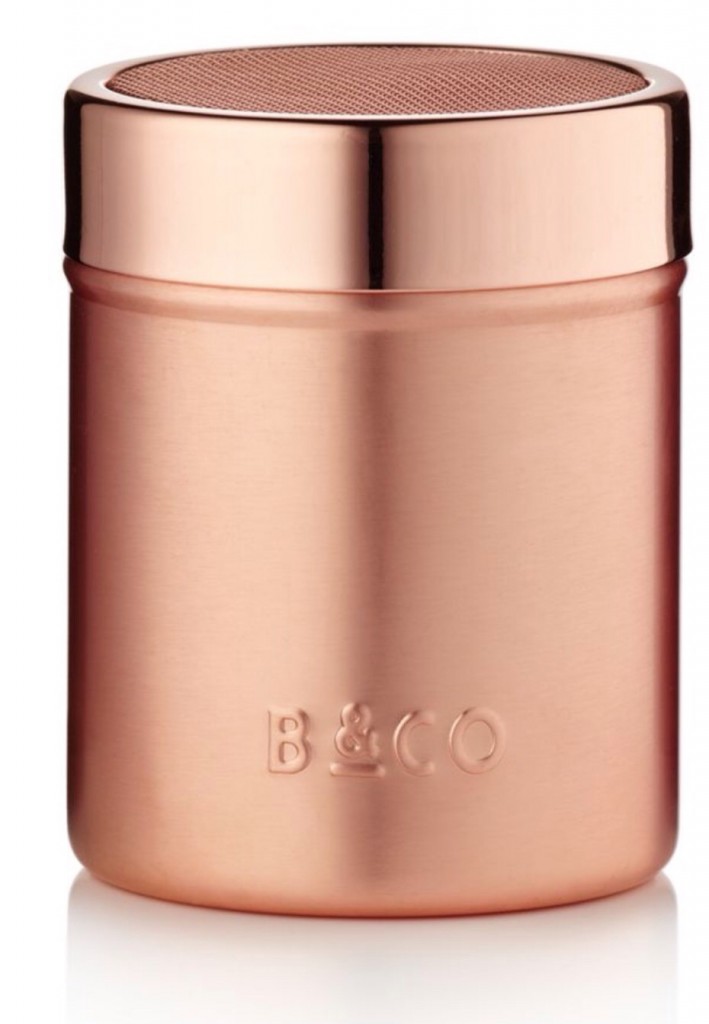 Barista & Co Cocoa Shaker in electric copper. Beautiful and unique with the Barista & Co embossed logo. For that elegant finishing touch with an ever so slight indulgence. Perfect for sprinkling chocolate or cinnamon onto freshly frothed milk. Plastic lid is provided to cover the top when not in use.
This is THE much sor after hamper from Planet Organic. It has some of the most exciting products on the market, including a few of their very own! In it you will find innovative coconut products, bio-available sprouted breads, pastas & cereals and a few other special treats. Don't forget, live by their mantra Eat Well, Live Better!
OK now for something not as good for you, but it's will definately make you warm inside. This richer more refined expression of this favorite Irish, Jameson Gold Reserve.
Beautifully illustrated with vintage-style scenes from L. Frank Baum's The Wizard of Oz, this stunning tea party kit is a charming gift for bookworms. Wrapped in a keepsake storybook box, find a selection of themed cookies from the stories of Dorothy, the Tin Woodman, Scarecrow and Cowardly Lion, plus a peppermint teabag and extracts from the book itself – perfect for hosting your own trip to the Emerald City.
Take the stress out of what wines go well with what courses, what meats etc by entrusting your own personal smellier. Each bottle from TheGrapeClub.co.uk comes with it's own personalised tasting note and food pairing.
As sure as the New Year will bring broken resolutions and credit card bills, you can bet health kicks and gym membership won't be far behind the, be one step ahead of the healthy pack with the Nutri Juicer by Sage with Heston Blumenthal.
What's there not to love about Movie night and now Movie Night at home just got a whole lot more authentic with this Smart Old Fashioned Movie Time Popcorn Cart !!! Why do you need one ? Errrr why don't you need one ! Mores the point.
Winter may only be upon us, but remember Summer is round the corner-ish and this stylish canvas barbecue tool set Barbecue Tool Set by ALL THINGS BRIGHTON BEAUTIFUL comes complete with tools and a canvas bag. You may have seen thisfeatured on Channel 4's 'Stephen Fry: Gadget Man!' The four piece set includes easy-grip tongs, basting brush, two-pronged fork and flipper with a custom-made carrying case. The barbecue tools are made from the highest quality ash wood and stainless steel, making them exceptionally hard-wearing.
The magnificent, perennially popular Classic Christmas Hamper from Fortnum & Mason presents everything one wants and needs for the big day. Expect fanfares as the lid is lifted to reveal the fruity, boozy, spicy St James Christmas Pudding and Cognac Butter, Sparkling Christmas Shortbread and Blackcurrant Preserve. Should I go on ? The fanfare continues with fondant Icy Mints, Cognac & Cranberry Fruit Cake, Piccadilly Biscuit Selection tin, and decadent Monarch Full Bodied Vintage Marmalade and a drum of Marc e Champagne Truffles. Refreshments includes, a Christmas Tea Caddy, a selection of wines & spirits such as, Brut Reserve Champagne, Cotes du Rhone, and Touraine Sauvignon Blanc to provide extra thrill, I think that's it.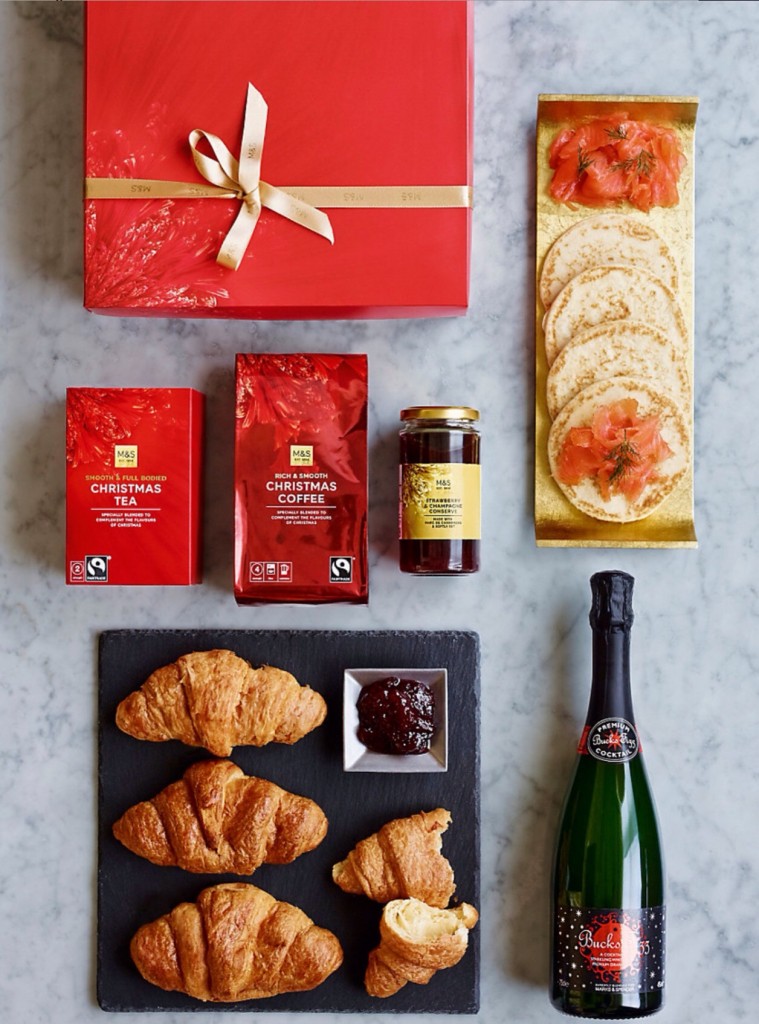 What a stroke of Genius from M&S with this Christmas Breakfast Hamper ! A selection of breakfast favourites for Christmas morning including smoked salmon with breakfast blinis, Christmas coffee and tea. Make Christmas stress free by starting the day with breakfast already made !!!