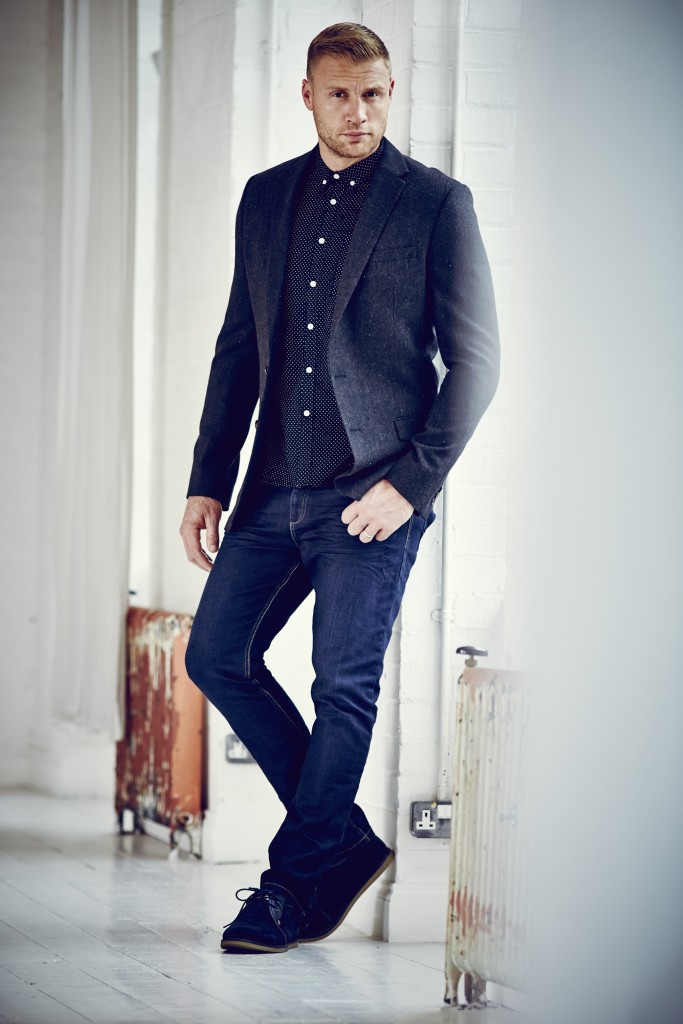 To put it mildly Andrew 'Freddie' Flintoff is a busy man, not only is the phenomenally popular Sports panel Show 'A League of their Own', he shares with James Corden, Jamie Redknapp and Jack Whitehall back for season 10 early next year. While his new BBC series, 'Special Forces-Ultimate Hell Week', clue is in the name there, sees  29 of the UK's fittest men and women pushed beyond their mental and physical limits by battle-hardened veterans from the world's toughest special forces in the ultimate endurance challenge. Plus, we're gonna see him team up with National Treasure Davina McCall for a new 21st Century take on a darts-based game show on Sky 1, called 'One Hundred and Eighty'. Phew, and if that wasn't enough, after being crowded King of the Jungle last year on the Australian version of 'I'm a Celebrity get me out of here', he has numerous TV commitments over there.
Yep there is no questioning that Freddie is no Idle man. If all that wasn't time consuming enough, he also manages to design a range for Bricks and Clicks Menwear Retailer Jacamo. Now entering its 8th season, Flintoff is hoping that his collection performs as well as the Spring/Summer range which saw sales for it, up 15% on the year before, impressive.
As Freddie's style has evolving over the years, the latest collection is a true reflection of his own wardrobe, incorporating wool and tweed blazers as well as a selection of chunky and fine knitwear.
Staying true to his simple approach to fashion, it also includes wardrobe favourites such as polo shirts, slim cut jeans and a versatile military inspired jacket.
The most stand-out piece is the 007 inspired slim cut classic black tuxedo, just in time for the October release of Spectre.

Freddie explained when we caught up with him, "Working on this range with Jacamo I've really realised how much of a positive impact dressing well can have on confidence. I've always liked to play it safe with fashion, but I think I got in the habit of sticking to what I know without being open to try out new things…even if it's just a different colour.
"As much as I love dressing casual, there's certain times in every man's life when you should smarten up." Good advice Mr Flintoff, we couldn't have put it better ourselves.
If you could've invented anything, what would it be?
Anything? The wheel, the telephone, I'd like to invent time travel. So I could go back in time
Where would you go?
I'd go to prehistoric times, before people
What is your biggest regret?
The one thing I should have done, was I should have given my mum and dad two tickets to Buckingham Palace to see me get my MBE. But I only used one ticket. I just took my wife. I was a bit embarrassed by all of it.
What would be the one piece of clothing you would rescue from your home in the event of a fire?
Underpants. Otherwise I'd be naked outside waiting for the fire brigade! But I like jeans; I'd get some jeans.
But you only have one choice; don't you have one favourite piece of clothing?
Well, you know what I'd probably rescue my England cap. Even though it's not something you would wear but I'd rescue my England cap.
Who is your style icon? 
I don't really have a style icon. I look at people and think, "you're smartly dressed". But I quite like the way Will.I.Am dresses. Cause he wears what he wants, I think there's a lot of sense in that. You dress to satisfy yourself.
Tell us something no one else knows about you ?
I like bacon, I also like Victoria Sponge. classic, cream and strawberries.
Can you tie a bowtie?
F: No, I don't think I've ever worn a bowtie. Even if I go to a black-tie event I'd just wear a black tie. I've never really worn a bowtie.
What piece of style advice do you live by?
For me, it's about feeling comfy in what you wear. Both as a fit and also when you're going out, there's nothing worse than going out thinking "I'm not sure about this outfit"
What piece of clothing should every man have in his wardrobe?
A blue jumper, a blue V-neck jumper. I like them. I like blue. It's my favourite colour to wear. So blue V-neck jumper.
Have you ever bought a piece of clothing and regretted it? 
I bought an Armani jacket. It was a fortune was well, it was shiny. My mate said it was nice. And I went out and he just ridiculed me all night. Never wore it again.
What are going to do after this conversation?
I'm going to jump in a car, to film ' A League of Their Own'
What do you wish you were doing after this conversation?
I wish I could go home. Just going home and spend the day with the family.
What piece of clothing best describes you?
My slippers. The old comfy, relaxed, lived in slippers.
Who would your ideal dinner guests be? 
Elvis, I love Elvis. My mate Paddy, cause he's my mate. Many people from music, Sinatra. Sachin Tendulkar as well.