Its official – summer is here and we offer you a roundup of the best sun screen around for different sun scenarios.
Daily products for use whilst out and about at lunch and après work drinks and those intended for long summer days outside, perhaps on a Mexican beach, sipping a mojito whilst watching a local fisherman catch a lobster to grill…. I digress.
The products do the same thing – protect your largest organ (your skin) from harmful rays, but what I want is two different things.
In the office/after work, pub garden is a quick and easy daily product to protect and keep me looking cool and not too shiny whilst I catch some rays.
On holiday – I want a smooth slick finish to protect from longer sun exposure, no white marks or stinging and long lasting, water resistance is a bonus.
So for the face
Daily skin care
LAB SERIES BB Tinted moisturiser SPF 35. Don't be afraid, the tint in this daily moisturiser just gives a slight healthy glow. Its oil free matiyfing formulation is a great daily moisturiser that also offers great sun protection. A firm favourite at Clothes-Make-the-Man
BIODERMA –Matifying FluidSPF30High sun protection, which minimises shine and offers broad spectrum sun protection. This colourless fluid acts like a daily moisturiser and is good on combination and oiler skin types.
All day protection
NIVEA SUN anti-age face sun cream. Well priced this offers 30+ UVA-UVB protection. Smells fresh and leaves no white marks, and is water resistant !!! Will help prevent premature skin aging from sun induced wrinkles. Errr ticks all the boxes!
Clarins Sun wrinkle control cream for face 50+. Our personal favourite product for the face, this cream offers great protection, doesn't sting and keeps skin moisturised in very hot/dry conditions.
CLINIQUE even better, dark spot defence, SPF45 Extra protection for sun damaged skin. Sun damages is the leading cause of dark spots, this lightweight 100% non-chemical sun screen fluid is oil free and offers daily high protection.
Full on sun skin care – Few rays or outside, baking all day
Riemann P20 SPF50+ once a day sun protection. This is awesome, apply before you leave your room. It dries quickly, can last up to 10 hours and is very water resistant. Suitable for all skin types this a great holiday all-rounder. And no white marks. Does what is says, if you're going for a week + err on side of caution and buy a spare as it gets used up quicker than expected.
Clarins – Sun Care Oil Spray. SPF 30 offering high protection. The nice thing about an oil is how your skin looks better on holiday. This formula is both water and perspiration resistant. Its multi-tasking as it nourishes skin and hair with Indonesian Nyamplung Oil, seena, plane tree and aloe vera; it protects against both sun and salt damage.
Garnier – Ambre Solaire Clear protect +SPF 50 This product is clear so leaves no white marks, and is in a spray so easier to apply to those harder to reach areas. Pleasant smell and well-priced is a good all round option.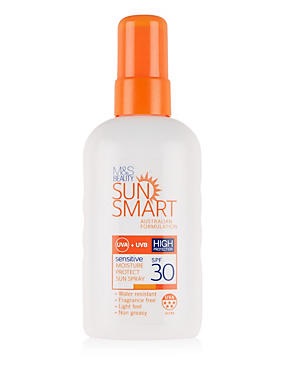 M&S Sun Smart – SPF30+ Moisture protect spray. M&S have upped their game with this smart clear formulation that features sunflower oil, soothing aloe, and antioxidant vitamin E to help maintain moisturised skin, whilst protecting against the damaging effects of the sun. Water resistant to protect whilst swimming for up to 40 minutes and the spray means that you can reach everywhere.