Trying to make your voice heard and getting across your point of different in the ever increasing and overcrowded e-commerce marketplace is bordering on impossible in this digital age we find ourselves in. But one website that is definitely doing all the right things in all the right places is LYST, who saw their business grow by over 400% in 2012, and 400% again in 2013.
Launched in 2010, by Chris Morton(see image below), who cut his entrepreneurial teeth in the financial world,  focusing on consumer internet; specifically ecommerce, music and games. Lyst is an innovative way to shop for fashion online that's used by millions worldwide every month. Lyst partners with not only the world's top mens brands, but the stores too – from the likes of Saint Laurent, Balenciaga, JCrew and Burberry to Saks, Mr Porter, Lane Crawford and Barneys – to bring together the world of style all in one place.
LYST has been described as everything from,
"The perfect app!"
"Helps me to form a relationship bigger than just being a customer with the brands I love."

"The impeccable and most reliable fashion website I've ever seen."
"In regards to fashion they help me define my style."
"I'm having an affair with my wish lyst…"*
What makes this site it's UPS and its advantage over the vast competition is the ability to follow your favourite brands and stores on Lyst, to be the first to see their latest uploads and add your favourite pieces to your own personal, individually tailored 'lyst' to receive instant notifications as soon as they go on sale or come back in stock, genius, or what ? Plus, they actively encourage social media and other content,  for a more curated and personal customer experience.
Lyst uses technology to create a personalised shopping experience for each and every user, so you can discover more of the fashion and style you want. A team of data scientists, or geeks in white coats to us, process 100,000 data points every hour, to make sure Lyst has the inside track on what's hot, and where to get it. Over 1.5 million shoppers used Lyst to shop for fashion over the Black Friday-Cyber Monday weekend in 2014.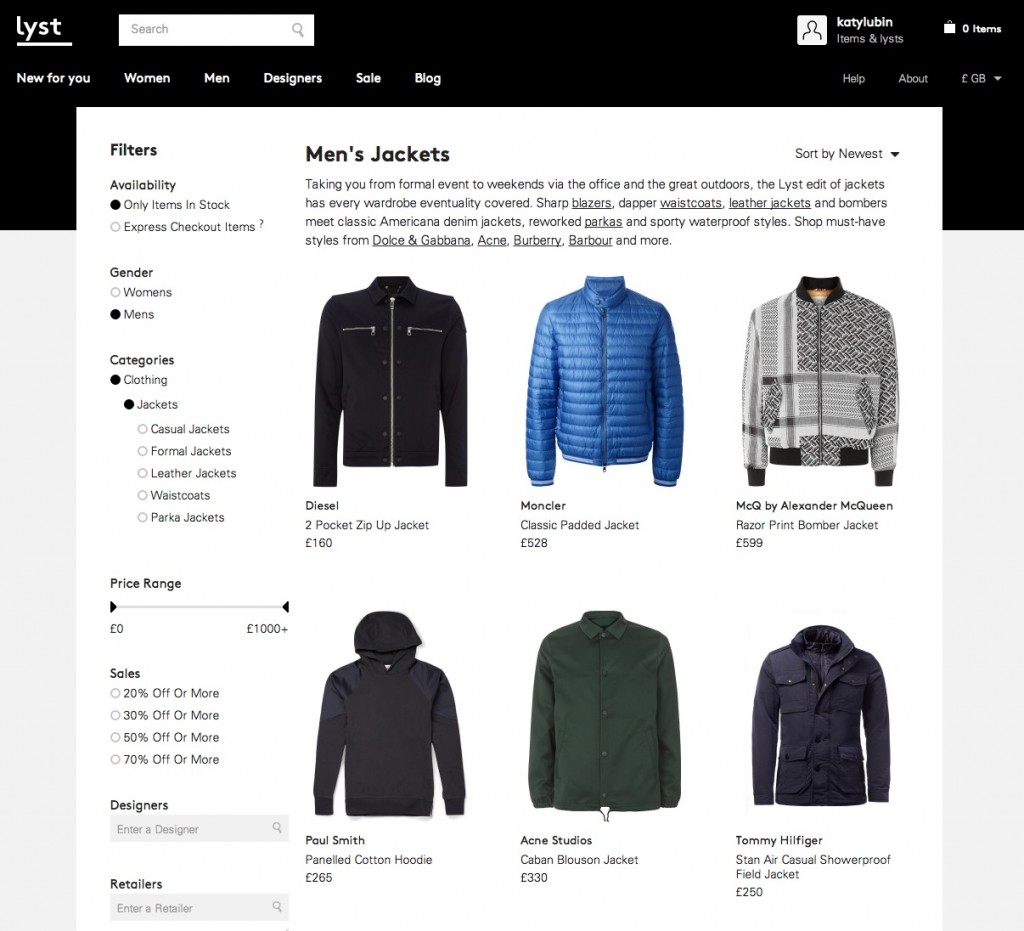 *All quotes obtained from trustpilot.co.uk